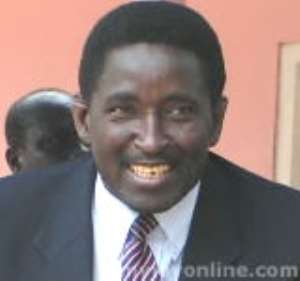 The continued detention of the NIB boss, Mr. Daniel Charles Gyimah was due to the inability of his lawyers to execute his bail bond, a counsel has said.
Captain Nkrabeah Effah-Dartey, a member of the legal team representing Mr. Gyimah says at the time they left the court on Friday it was practically impossible to assemble all that was necessary to execute the bail bond.
He told Joy News' Matilda Asante that the GH¢500,000 bail was executable by four sureties one of whom had to be justified by way of documentary evidence that he or she had property worth the bail sum.
He contended it was difficult, given the short time before close of work Friday, to assemble all the sureties.
His position detracted from an earlier one by another member of the legal team, Bright Okyere Agyekum who submitted that the accused had property that could satisfy the bail bond and yet was detained by the BNI.
He argued it was not legally wrong for the accused to provide facility required of the surety to be justified.
Captain Effah-Dartey does not however hold that view.
He also says he will not impute political motives to the arrest as being suggested.
According to him, the issue was purely a legal matter in which the accused had the chance to defend himself in a court of competent jurisdiction.
On the substantive case, he said the prosecution was creating the impression his client had taken actions that led to loss of money to the state.
"(But) the judge asked the prosecutor a specific question that 'has the state lost money?' and the prosecutor said no," he said.
The NIB boss is accused of signing promissory notes to a private company, an action that allegedly led to the loss of $60 million to the state.
Meanwhile, Mr. Gyiamah has now been released and was at the premises of the Cocoa Affairs Court as at midday while the processes were being concluded for him to secure bail.
The lawyers are confident he will walk out free because the allegations cannot be proven by the prosecution.
Story by Malik Abass Daabu