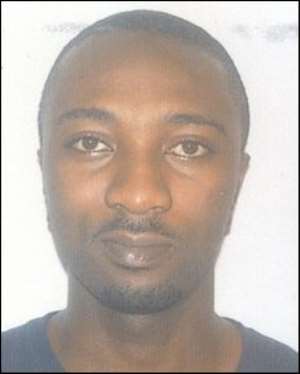 26-year-old (VICTIM) Reginald Berko. Mr Berko was murdered in London
British Police have arrested the murderer who took the precious young life of 26 year old Ghanaian National, Reginald Berko, UHURU Times has confirmed, based on reliable sources.
Reginald Berko was stabbed to death in Hackney, east London, according to an earlier BBC source.
The body of the victim, Reginald Berko --- (whose father, Mr. Berko was a former Headmaster of Opoku Ware Secondary School [OWASS] and whose Mother, Mrs. Victoria Berko, popularly known as ["Sister Vic"] is a blood relative of "Osagyefo Dr" Kwame Appiah Boateng, former Ghanaian-American Los Angeles Mayoral Candidate - turned 2004 and 2008 CPP Parliamentary Candidate for Nhyiaeso Constituency in Kumasi, Ashanti Region) --- is expected to be buried at his Hometown of Bamang, near the Kente weaving Town of Bonwire in the Ashanti Region of Ghana on February 26, 2009
In a SPECIAL TRIBUTE, Kwame Mayor praised his relative, Reginald Berko as a young man who braved the storms of Atlantic Ocean into the Frontiers of an un-known World, England.
"Reginald Berko was born a Brave Man into the Adonteng Puduo Royal Family of Bamang. He had a Good Soul. It's indeed sad that a cowardly murderous hand took a Precious Life woven by the Mysterious Hands of God", said "Osagyefo Dr" Kwame Appiah.
The "People's Mayor" asked Ghanaians around the World to show solidarity with their fellow Ghanaian(s) and pour out in their numbers at the Funeral Celebration of Mr. Reginald Berko whose body is due to arrive in Ghana - en route to the famed Farming and Kente weaving Village of Bamang, where the Powerful River Oda lies, and where the remains of the "Martyred" Ghanaian victim, (Reggie Berko) would be laid to rest on February 26th, 2009.
The Celebrated Politician praised British Police for arresting the murderer who "cowardly assasinated" Reginald Berko.
"The Evil Murderer must face Justice !!!", said the Legendary Human Rights and Civil Rights Activist.
Reading the Book of Psalms, the "People's Mayor" pleaded with God Almighty to punish evil doers who kill Human Beings yet, cannot create Life !!!".
Visibly angry, the Pro-American and Celebrated (Pan-Africanist); Ghanaian (Patriot) and Asante (Traditionalist) urged his African Ancestors and all the Great Rivers of Africa to fight back against evil murderers who have shed their blood.
"Reginald Berko, Rest in Perfect Peace. The Mysteries of the Heavens above and the Natural Mystics of Mother Earth will avenge your untimely death !!!", Kwame Presidente', formerly called Kwame Mayor said amid un-controllable tears.