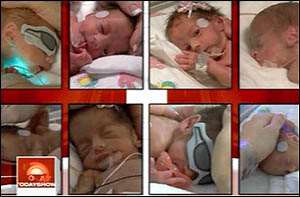 Miracle ... octuplet babies THE mum of the world's first surviving octuplets says it is more than EIGHT years since she had sex – despite now having a brood of 14 kids aged under seven.
Nadya Suleman insists her last date was well before her eldest son was born seven years ago as a result of IVF, and adds she has no intention of dating again until her youngest children are 18.
In her first UK interview, the 33-year-old American admits she met her sperm donor, David Solomon, in a nightclub and went to the movies with him once before deciding she didn't want him as a boyfriend but for him to give her children.
Since then, she says, he has fathered ALL14 of the frozen embryos which became her kids. But the two now talk just once a year, and he never sees his offspring.
Nadya, of Whittier, California, says: "I can't remember the last time I went on a date.
"Boyfriends? I think I'd have to be extremely selfish. I cannot maintain a social life and be a mother.
"To even take one per cent of every night and devote it to someone else, a stranger, would be wrong.
"I have to wait for that until my youngest have left school. I can't leave someone else trying to care for my kids while I date."
On January 26, Nadya — who was briefly married in the Nineties — gave birth to Jonah, Noah, Maliyah, McCai, Isaiah, Nariyah, Jeremiah and Josiah.
Her multiple motherhood follows years of struggling to become pregnant during her marriage, battling a string of fertility problems and suffering two miscarriages.
After her marriage ended she had numerous embryos frozen and then implanted in her womb in batches during subsequent IVF treatments, resulting in the births of her six older children.
Then last year she had her last six embryos all implanted at once.
Two became twins, resulting in last month's eight births.
Nadya recalls: "On the first sonogram I saw five babies. Then it kept going up. A week later I saw six, the next week I counted seven.
"I was praying to God — 'Don't let there be any more.'
Nadya also talks of the death threats following the babies' birth which have forced her temporarily to go into hiding after she was discharged from hospital.
She says: "There were letters and emails saying we deserved to die. There were protesters in front of my house. There are mentally disturbed people in the world."
Despite the threats Nadya says she is happy to be back at home with her older six kids.