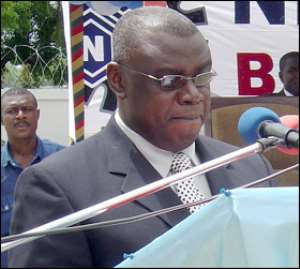 Daniel Gyimah
DIFFERENT MEANINGS are being read into the decision of the Bureau of National Investigations (BNI) to detain the Managing Director of the National Investment Bank (NIB) despite the fact that he has been granted bail with four sureties.
The BNI has also confiscated the travelling passport of Mr. Gyimah and last Saturday morning prevented him from having access to a breakfast that was prepared and brought to him by his family.
Though family members expressed worry and explained that Mr. Gyimah was on diet and medication and had to abide strictly by a prescribed meal, the BNI, without giving any reasons, insisted they would not allow the detained man take the food.
Mr. Gyimah, acting in his capacity as the Chairman of the University Council of the University for Development Studies (UDS) in Tamale, played the lead role in the cancellation of the award ceremony the school had arranged to confer a honorary doctorate degree on ex-President Rawlings in 2005.
He has also been an open activist of the New Patriotic Party (NPP) and the cancellation on the said awards generated a huge political controversy.
The continuous detention of Mr. Gyimah despite his bail has generated a great controversy with pundits not ruling out political manoeuvrings.
There are reports that top political figures in the corridors of power consider Mr. Gyimah as being politically incorrect and have vowed to move tooth and nail to get a replacement for him as MD of NIB.
DAILY GUIDE gathered that senior members of the Catholic Church in Ghana have stepped into the issue and have contacted the Office of the President over the issue, as a number of lawyers and people from civil society have described the continuous detention as unlawful.
Mr. Gyimah was picked up last Thursday and charged by officials of the BNI for having wilfully caused financial loss of an alleged $60 million.
He is alleged to have perpetuated the crime when in 2007 he signed 30 promissory notes, valued at US$60 million for Eland International (Ghana) Limited, a private company, and used the NIB as guarantor.
Mr. Gyimah is reported to have sought the consent of the Board of Directors of the bank only after his action.
In court last Friday, Mr.Gyimah pleaded not guilty to the charge levelled against him.
Meanwhile, the Presidential Spokesperson, Mahama Ayariga, yesterday told journalists in Accra that government has no hand in the issue.
Mr. Ayariga explained that though the courts had ordered that Mr. Gyimah be granted bail, he was to provide four sureties including one with property worth an amount not less than $500,000.
The Spokesperson alleged that though Mr, Gyimah had the four sureties, it was detected that one of the properties that was produced actually belonged to the detainee himself.
A Daily Guide Report