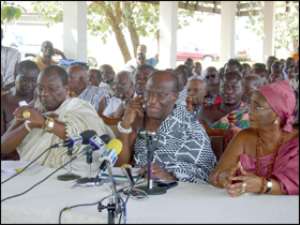 Ga Chiefs THE INCUMBENT Ga Royal Paramount Stool Dzaasetse, Nii Tetteh Kwei II and the Ga Traditional Council have refuted claims by Johnson Tackie Yarboi, who is alleged to be parading himself as the Dzaasetse.
Briefing the press at the Ga Mantse's Palace in Accra to substantiate the feud between the two parties involved, he stated, "I Nii Tetteh Kwei II, the incumbent Ga Royal Paramount Stool Dzaasetse, do hereby categorically refute the claims of Johnson Tackie Yarboi a.k.a Yaote Otoga that he is not and has never been the Ga Dzaasetse".
"Yaote Otoga and his cohorts must stop disturbing our Ga Mantse, Abiasumah King Tackie Tawiah III, who inter alia is the incumbent President of the Ga Traditional Council."
Present at the meeting were the Ga Manye, Naa Dedee Omaaduro III, the Gbese Mantse, Nii Okaidja, La Mantse, Nii Kpobi Tetteh Tsru and many other sub-chiefs.
However, there "cannot be admission of anyone not suitably qualified under the customs and traditions of his area into any of the Councils. There are therefore research committees that examine all installed Chiefs as to the required provisions. Any doubts and challenges are either taken to Judicial Tribunals of the Councils or the law courts for adjudication".
Adding that pronouncement by anyone without lawful credential for such a challenge cannot be entertained, he said it is critical that the person should have legitimate standing and be seen to be acting in conformity with the decided process or law that governs chieftaincy affairs.
It would be recalled that on February 5 this year, a group of people, led by Johnson Tackie Yarboi held a press conference at the International Press Centre to hold himself as the Ga Dzaasetse and an elder of Amugi We.
In addition, the Dzaasetse referred to the ruling of the Judicial Committee of the Greater Accra Regional House of Chiefs on July 18, 2008, which maintained that "we cannot restrain him from carrying on with activities as Ga Mantse.
An injunction is to restrain parties from doing acts in the future that might give them advantages over their opponents. It is not to order a person to stop what he is already doing or to reverse the status quo, Vanderpuye vrs Nortey 1977 (1) GLR 428 (GA)".
Their Lordships, he continued, lay down the "principles given by the grant or refused of such application and we agree needlessly with them that such an order must be just a covenant and be fair to both parties. We hold that Nii Tackie Tawiah III cannot be restrained from carrying himself out as Chief".
Furthermore, he indicated that the move by Tackie Yarboi alias Otoga had backfired because there is "no other Ga Dzaasetse besides my very humble and good self".
Ga history, according to Nii Kwei II, has never known any enstooled Ga Dzaasetse with the name Yaote Otoga.
Explaining further, he said what has brought about this brouhaha is that Otoga is reported to be a distant relative of the late Ga Mantse, Nii Amugi II, adding that as soon as his death was announced, Tackie Yarboi among others "started scheming to also claim Ga Dzaasetse position, which in fact is the legitimate right of the Tetteh Kwei family".
He prayed that under the distinguished leadership of President John Evans Fiifi Atta Mills, peace would prevail in chieftaincy matters in "our beloved country, Ghana". By Natheniel Y.Yankson