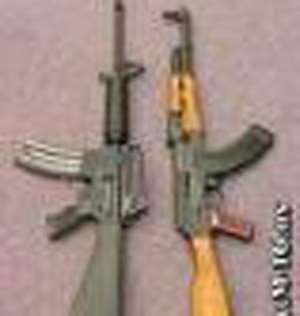 AK47 Rafle Three persons are reported dead following renewed gun fighting between two Konkomba clans, the Kumboro/Bosoro and the Gabus in Wakiki near Chereponi in the Chereponi district of the Northern region over a chieftaincy succession.    
Reports reaching DAILY GUIDE indicate that the Gabus   allegedly stormed the Wakiki chief's palace in their quest to eliminate him following a long-standing feud thereby incurring the wrath of the opposing side.   
Subsequently, the two factions, well-armed, engaged in a fierce gun battle necessitating the evacuation of the Wakiki chief Awusobubar, his family and health workers in the area to Chereponi, the district capital.  
In the ensuing battle 11 houses were torched and several injuries were recorded.   
Police personnel dispatched to the village could not control the situation until reinforcement from the Yendi Divisional Command was deployed to assist.   
When contacted, the chief's spokesperson, Alhaji Abubakari Shaibu Malba confirmed the violence and said it had been an impending issue since January.   
He alleged that on 28th January an irate youth from the Gabus clan laid ambush and shot Chief Awusobubar in his right hand while he was returning home from a surrounding community in the Chereponi area. The chief was rushed to the Yendi District Hospital and later referred to the Tamale Teaching Hospital where he was treated and discharged.    
Chief Superintendent S.K Sarpong of the Yendi Divisional Command also confirmed the violence but was however quick to add that the situation had been brought under control by personnel on the ground.   
Meanwhile 8 persons including a Togolese military officer seeking refuge in the area identified as Abdulai Totongu have been arrested in connection with the violence.  
According to sources the said Togolese is alleged to be providing some form of military training to one of the feuding factions.
The police retrieved from the suspects two AK 47 guns and 5 GT raffles believed to be used in the operations. They have been placed in police custody in Yendi to assist in investigations.
From Stephen Zoure, Tamale