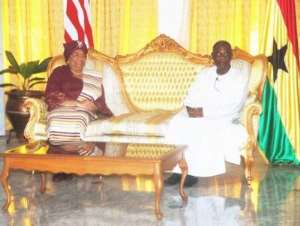 President J E A Mills interacting with President Johnson Sirleaf President Ellen Johnson Sirleaf of Liberia yesterday held bilateral talks with President Mills, at the Castle, Osu in Accra.
Interacting with President Mills, she expressed her pleasure to be in Ghana, and the opportunity given her to be able to exchange views with her Ghanaian counterpart and also brief him on progress made in Liberia, to which Ghana has contributed so much.
She congratulated President Mills on his historic victory, and said her country wants to discuss with President Mills, means by which they can strengthen the relationship between their two countries. On the continental front, the Liberian President said she looks forward to the opportunity to exchange views on general issues relating to Africa's development.
'How we might promote within our own region and beyond, regional co-operation, regional integration whereby enabling all of our economies to be stronger to meet the changing global dynamics, to ensure that the progress already made in so many of our countries for many years through economic reforms, that indeed we can sustain that progress and build upon it,' she said.
Welcoming the Liberian leader, President Mills said, it was the people of Ghana that a resounding victory was won for in the last general elections in Ghana and expressed his gratefulness to God for the maintenance of peace and stability in the country.
He recalled relations between Ghana and Liberia, which he said dates back many centuries ago and stated that many Ghanaians trace their ancestry to Liberia. Ghana and Liberia, President Mills noted, have very strong ties and is evident in the fishing industry in Liberia, where many Ghanaians continue to ply their trade.
Touching on the global economic crises, President Mills underscored the need for African countries to come together, exchange views and ideas, and find ways of helping one another to enable them revitalise their economies.