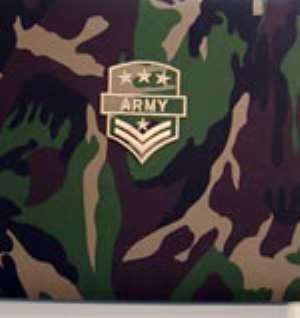 The Military High Command has reconstituted the Board of Inquiry (BOI) set up to investigate alleged irregularities that characterised the recruitment of 420 would-be soldiers in March 2008.
Consequently, the command has issued a new Convening Order signed by the Chief of Staff of the Ghana Armed Forces (GAF), Brig-Gen. R. Winful, with reference number OHQ/I 002/ 13/COS.
The new order excludes Lt Col R.S. Nyaka, whose membership was opposed by Capt. Nkrabea Effah-Dartey at the first sitting of the board, forcing it to suspend proceedings.
Capt Effah-Dartey (reta), lead counsel for Col Kojo Damoah, one of the witnesses in the case, had challenged the composition of the board and raised objection to the membership of Lt Col Nyaka during the sitting.
Col Damoah was the Director of Manpower and Personnel Administration (DMP) of the GAF but he was relieved of his position at the weekend and re-posted to the Army Headquarters without any portfolio.
The letter transferring Col. Damoah was signed by the Military Secretary, Commodore T.S. Appiah, and issued to all the Service, Formation and Unit commanders of the GAF.

No reason was assigned for his removal. The letter named Col T.N. Ba-Taa-Banah as the new DMP of the GAF.
The recomposed BOI now has Col B. Musah as its President, while Col S. Odoi-Gyampo of the Genera1 Headquarters of the GAF; Lt Col J. Hagan of the Army Headquarters and Lt Col T. Ampofo-Gyekye, Defence Intelligence Officer at the General Headquarters, as its members.
It has Lt Col R. Adwini of the General Headquarters of the GAF as its Secretary.
The order said the board might co-opt any other person(s) it might consider necessary for its work.

It said its terms of reference were to determine whether the proper procedures were followed in the selection of the potential recruits, whether the bids for the various services, corps and units were met and whether the requirement of regional balance as prescribed by existing policy was satisfied.
It said the board would also determine whether the list of 420 potential recruits selected for training had been infiltrated by unqualified persons and if so the extent of infiltration, as well as any other matters of relevance to the whole recruitment exercise.
The letter said the board should record its findings and opinions and make specific recommendations, while all evidence should be taken on oath and recorded.
The witnesses to appear before the board are Air Commodore C.E.K. Dovlo, the Director-General of Personnel Administration of the GAF; Col Damoah, Lt Col R.A. Gyane of the Army Headquarters; Lt Commander E.O. Nyarko and Dr P.G. Agbenohevi, both of the 37 Military Hospital, and Major J. Vander-Pallen of the Records Department at the General Headquarters of the GAF.