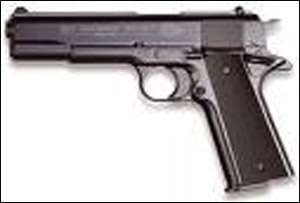 Pistol A 49-YEAR-OLD veterinary officer, Saibu Sunka was shot and killed by unknown assailants at Bugri near Bawku on Saturday February 14.  
According to family members, the deceased was working in Garu until he was recently transferred to Sunyani in the Brong Ahafo region.   
He was said to have come to Bawku for his belongings and to bid family members goodbye when he met his untimely death.   
The family says the deceased while at home on the said day received a call from someone requesting him to come and examine a cow before it could be killed.
While on his was to the said place his killers laid am bush and shot him at close range killing him instantly.  
The Bawku police confirmed the incident and disclosed that they were investigating the matter.  
His body has since been deposited at the Bawku Government Hospital mortuary pending autopsy.
From Stephen Zoure, Bawku