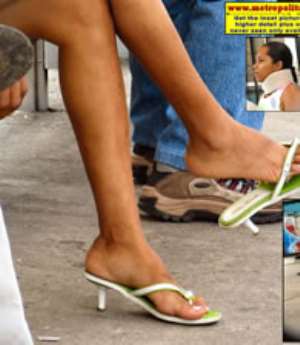 In line with its efforts at ensuring that students dress decently on campus, the authorities of the Central University College (CUC) have introduced a dress code for the students.
Clothes and hairstyles of the ladies, under the code, are to emphasise their unique and sacred identity.
According to the code, dresses that expose the breast, upper thighs, loins and panties are regarded as indecent.
"By these, we mean transparent, sheer or tight-fitting blouses, sweaters and sleeveless tops (spaghetti strap), while T-shirts are not permitted," the code indicates, adding that short blouses and dresses with low neck lines are also not permitted.
The students are not allowed to wear shorts and tight-fitting slacks, because they are considered inappropriate for lectures, while skirts and trousers with stylish cuts are also disallowed.
They are also not allowed to wear anklets, while wearing of more than one pair of earrings is prohibited, just as it is an offence to wear T-shirts with offensive inscriptions.
The men are required to wear trousers and shirts with collar and tie or decent African wear, and it is also not acceptable for them to wear sleeveless T-shirts. The men can only wear shorts for sporting and recreational activities and they cannot wear earrings, nor can they braid their hair.
The code also prescribes various sanctions to first, second and third time offending students.
So far, two students (a male and a female) of the university have been cautioned by the Dean of Students and their pictures published on the university's notice boards.
The Head of the Public Relations Department, Rev Tetteh Djangmah, said the action taken by the school was to address the issue of indecent dressing among the youth.
Rev. Djangmah said the dress code for the CUC was developed based on the philosophy of the university, which he mentioned as faith, integrity and excellence.
He explained that numerous complaints from students and lecturers necessitated the code.
Rev Djangmah said training at the university was geared towards the industries and noted that the kind of dressing by some of the students needed to be shaped properly.