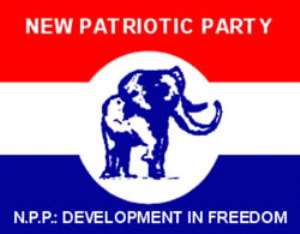 Though Nana Addo Dankwa Akufo-Addo lost the presidency to his rival and colleague at the University of Ghana Football Team, sympathizers and members of the NPP took consolation in the fact that by 2012 he would be 69 or thereabout and could still vie for the ultimate .
Early Congress to elect our Flag-bearer:
We have realized that all did not go well with the process used in selecting our flagbearer. In the first place, the timing of the congress was a major factor which militated against the "marketing" of the candidate. Our flagbearer, Nana Akufo-Addo was chosen on the 21st or was it 22nd December, 2007 and that gave him only a year to do effective campaign.
It would be appreciated if the party could go to congress by December next year to elect the flagbearer. What is the benefit of a delayed congress? My understanding was that the previous one was delayed because we were in Government and the party did not want to elect a flagbearer who might be seen to rival the president. And so the case for a delayed congress was tenable. But in the light of what has happened to erode our fortunes, I am making a strong case for an early Congress.
Appointment of a Committee to see to the Election of the Party's Flag-bearer and the Parliamentary Candidates:
I am making a case for the appointment of a Committee whose sole function would be to come up with criteria for selection of Parliamentary and the Presidential Candidates of the party.
The party will very soon have a convention to deliberate on what went wrong during the Dec 2008 elections. But I would want that meeting to take far reaching decisions including the appointment of the Committee mentioned above.
Even though we are being advised and admonished not to wash our dirty lining in public, we should ask how we could keep quiet when our houses and beards are on fire? Difficult situations, we all know, need drastic solutions.
I am making a case for the appointment of Mr. Kwame Pianim, General Joshua Hamidu, Professor Adzei Bekoe, Dr. Nyaho Tamakloe and Mrs. Ama Busia into a five member committee whose sole responsibility is to conduct a hitch-free Congress to elect our flagbearer as quickly as possible. The committee should be tasked with receiving memoranda on the way forward from genuine and committed members of the party.
De-emphasize the issue of Monetocracy in the Party:
A party gets the leaders it deserves. In the first place, the NPP has, by fixing very high filing and nomination fees, given the erroneous impression that it is money conscious. But this is and should not be the case. This has some how placed a barrier to the ambitions of some dedicated and good party men and women, who otherwise, would have made very good leaders, but who, for lack of many could not contest any elective position in the party. This doesn't mean we should sacrifice merit on the altar of mediocrity.
I do not want to pre-empt what the Committee should do, but I envisage a situation whereby a limit be placed on the number of presidential aspirants. While others might term this suggestion as undemocratic, the suggestion, if adopted, has the potential of healing any wound/conflict which might arise from such a contest.
Selection of Delegates: I would love a situation whereby all fully paid-up party members of one year standing and above are made part of an Electoral College to elect the Flagbearer of the party. The same method should be used for the election of our Parliamentary Candidates. The committee must work out the modalities. This will eliminate the use of money to entice delegates to vote in a particular way and manner. Example, if there are 100 delegates, all that a candidates needs to do is to target about 51 of them and he/she will be "there".
The second option would be to maintain the system of using delegates to elect our candidates but with some modification. And this brings to mind the use of the Open Ballot System which I had earlier on advocated for its use in selecting our flagbearer and the parliamentary candidates.
By this system, delegates queue behind representatives of various candidates. These are counted and the numbers recorded. The advantage here is that it eliminates the potential of a delegate collecting monetary inducement from more than one candidate. Collecting money from a candidate in itself is bad but we cannot eliminate this from our system in its entirety. But if this Open Ballot System is used, anyone who collects money from more than one aspirant would be exposed as a cheat.
The system, even though appears to be archaic, a little modification here and there would make it a model for use in our subcontinent.
A Case for 'Retention' Of Nana Addo Dankwa Akufo-Addo as Our Flagbearer:
The former New Patriotic Party flagbearer, Nana Addo Dankwa Akufo- Addo remains one Ghanaian people admire for his uprightness, forthrightness, boldness and doggedness.
His composure reflects him as a person with great hope and vision. Infact the first few days after the result of the December 28 run-off election had been declared, the morale of party members sunk so low that people felt the party was heading towards disintegration.
But today, there is hope, thanks to Nana Addo Dankwa Akufo-Addo, whose personal mien has helped keep the hopes and aspirations of party men and women alive.
He has built a powerful coalition of dedicated NPP men and women from different power blocks to give the party a semblance of peace, order and tranquility. He is not a novice in the slippery terrain of Ghanaian politics. But for his dexterity and deft movement in bringing aboard all the fifteen presidential aspirants who contested with him, his campaign would have run aground and the gains chalked by the NPP would have been unremarkable.
Nana Addo Dankwa Akufo-Addo plans to introduce an ideal government which is capable of satisfying the yearnings, aspirations and hopes of Ghanaians. In making a strong case for Nana Akufo Addo's retention as flag-bearer, I am not unaware of the deep concerns expressed by other party members against what they suggest or think might be an "imposition" or "undemocratic" move.
But that does not mean that I should shut up when I feel so strongly about an issue. I equally have a stake on who becomes our party's flag-bearer. The same principle applies to other members of the party.
But it must be stressed that, I am not, by this write up, advocating that Nana Akufo-Addo be made the party's sole candidate at its Congress. There could be other candidates. But my point here is that, of all the names coming up that of Nana appears to be the one which has the potential of improving the fortunes of the party.
Let no one make any mistake. Let party men and women think about bringing a new commodity to the market if they want us to remain in opposition beyond 2012. I am by this stating emphatically that "it is the turn of Nana". But I am saying the New Patriotic Party, as a matter of principle, must learn to arrive at consensus in its decision-making process. Nana has been marketed before and his name is synonymous with the New Patriotic Party. His name has therefore become a brand name in the country today. It took the party sometime to achieve this. Bringing about another brand name would be like a House divided against itself. For if such a thing happens, the house cannot stand. Why can't we try to polish up its rough edges?
By this, I am not suggesting that Nana did not make mistakes in the execution of the campaign. Some mistakes were indeed made and as the General in charge of the war machinery, he must take responsibility of those shortfalls which he has done with all humility.
Even though all party men and women who satisfy the party's constitution could contest the flagbearership, I would entreat such people, to put party's interest first and shelve their personal ambitions, at least for now. The overall interest of the party should supersede our individual ambitions.
As stated earlier, Nana's name has become a household or brand name, for he is one such individual whose single action captures national and international headlines. For someone who started from scratch and came so close to attaining the ultimate, that individual must be encouraged to continue in the task for which he has set himself.
Infact, he was not deterred by the emotional trauma of our defeat in the December 2008 Parliamentary and Presidential Elections. Rather he has striven to defend the noble ideals of freedom, Justice, Tranquility and Tenacity of purpose which our founding fathers fought for.
Nana Addo Dankwa Akufo-Addo, like Felix Morka, Executive Secretary of the Social and Economic Rights Action Centre (SERAC) believes that all hands must share a role in remaking the material conditions of existence for the greater numbers of our population. To both of them, "poverty has no ethnic, tribal, religious or national identity. It does not only diminish the poor, it diminishes humanity".
A few minutes' encounter with Nana is a must for the uninformed and those who do not know him. After such a visit, one would begin to revise one's notes on him for the one would leave with the feelings of having been re-invigorated and re-energised"

The quest for retaining Nana Addo Dankwa Akufo-Addo as flagbearer of the New Patriotic Party is still marching and working tirelessly towards ensuring a better future for Ghana.
Credit: Daniel Danquah Damptey
[Email: [email protected]]
Tel. No: 0243715297