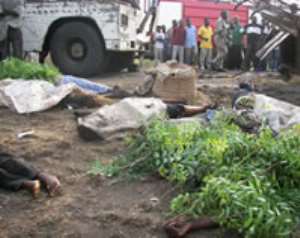 Accidents rate in Ghana is worrying
Sixty-two people perished in two separate accidents on the Kintampo- Tamale-Bolgatanga road yesterday. Many others were reported to have sustained injuries, some seriously.
In the first accident at Kawnpe, about 40 kilometres north of Kintampo, in Brong-Ahafo, 28 people died, according to Ian Motey.
The second accident at Kadia, near Savelugu on the Tamale-Bolgatanga main road, claimed 34 lives on the spot. Forty seven others were reported injured, The Ghanaian Times reports.
The Kawnpe accident, according to the report, occurred when a DAF passenger bus with registration number GR 1086 P travelling from Kumasi to Bolga collided with a Benz 702 passenger bus with registration number AS 6892 N which was said to be travelling from Walewale to Kumasi.
According to the Kintampo Police Commander, Superintendent Prosper Amoah Ayisi, preliminary investigations revealed that the 207 Benz bus veered off its lane and collided head on with the DAF bus.
The dead were 26 passengers from the 207 bus and two from the DAF bus. The driver of the DAF bus escaped with minor injuries.
The 28 were made up of six females and 22 males including two little boys.
Eyewitnesses the Times spoke to, said the impact was so great that the DAF bus completely sat on the mangled 207 bus and it took Fire Service and Police personnel as well as some volunteers over two hours to pull out the victims.
Mr Daniel Wuoku, Brong-Ahafo Regional Road Safety Officer told the Times that he suspected fatigue as the main cause of the accident.
In the Kadia accident involving two Neoplan buses popularly called Awudu-Issaka, a 207 benz bus and an articulated truck, 33 of the victims died on the spot while the other one died later at the Tamale Teaching Hospital.
The Northern Regional Police Commander, DCOP Ofosu-Mensah Gyeabour, said the accident occurred between 3a.m and 4a.m and blamed it on careless driving.
He explained that the driver of the 207 bus which was heading towards Bolga attempted to overtake the two Neoplan buses but lost control, skidded off the road and collided with the on-coming articulated truck loaded with onions.
The bodies made up of 19 males, 12 women and six children have been deposited at the Tamale Teaching Hospital mortuary.