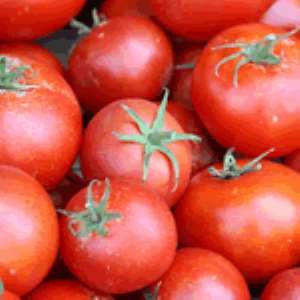 The Director of Administration at the Ministry of Women and Children's Affairs (MOWAC), Mr Ronald Modey, has said the high levels of fertilisers contained in local food crops reduce their nutritional value and makes them unhealthy for human consumption.
He, therefore, called on small-scale farmers to practise organic farming as this would increase the quality and nutritional level of locally produced food crops in the country.
Mr Modey said this at the launch of a research report on free trade, small-scale production and poverty, by the Social Enterprise Foundation (SEND-Ghana) in five communities in the country. They are Elmina in the Central Region, Matsekope in Greater Accra, Gane in Upper East, Kalende in Northern Region and Tangasia in the Upper West Region.
Mr Modey advised farmers to develop innovative ways of farming to give crops a longer lifespan, as crops that contain high­er concentrations of fertilisers perish quickly.
The Senior Industrial Promotion Offi­cer in charge of the Gender Desk at the Ministry of Trade and Industry, Mrs Diana Afriyie Addo, called on Ghanaians to patronise locally produced food crops.
She said this would help local produc­ers to cultivate more crops to promote the local food industry and create employment for the youth.
She noted that it would also help local producers to compete in the local and international markets to boost the Ghana­ian economy.
Mrs Addo urged the farmers to join co­operative unions to share ideas on good farming practices and also benefit from micro credit facilities.
The Country Director of SEND-Ghana, Mr Samuel Zan Akologo, said the research was conducted to educate, generate and advocate participatory trade policy formu­lation for small-scale farmers.
He said the findings would be used to engage government and other relevant stakeholders in order to develop policies that would impact positively on small-scale farmers especially women.
The findings revealed that farmers, par­ticularly those cultivating tomato and soya beans, were yet to enjoy the benefits asso­ciated with the creation of the sub-region­al market and other integration policies.
It also found out that unless compre­hensive export capacity building pro­grammes are vigorously pursued, the ben­efits that small-scale Ghanaian women producers can reap from regional integra­tion and trade liberalisation would remain a mirage".
The research also revealed that there was a decline in agricultural production because most farmers cultivating tomatoes and soybeans depend on rainfall for their farming,
It further stated that there was a high cost of farming and fishing inputs, such as premix fuel, fertilisers, machinery and pesticides, which rendered agriculture unprofitable for farmers, particularly those in small-scale food crop production.
The findings stated that trade liberali­sation had resulted in stiff competition from imported goods, foreign traders and companies.
The research, however, recommended that support for women farmers should include capacity building and access to loan facilities.
It also recommended that the govern­ment should create an enabling environ­ment for private entities to provide storage facilities to prevent supply glut and boost the income of farmers.
The research further stressed the need for district assemblies to create opportuni­ties that increase access to markets by linking women and small-scale farmers to the Ghana school feeding programme.