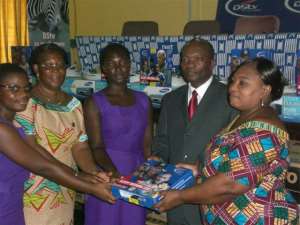 MultiChoice Ghana has invested in 9 more Ghanaian High Schools as part of the company's Corporate Social Investment (CSI) Initiative by donating DStv hardware, TV's and VCR recorders to schools. The installations are part of a broad MultiChoice community development strategy to leverage company assets and expertise toward development and growth of communities in which the company operates. Currently there are eleven Ghanaian schools benefiting from this initiative. The expansion will bring the total to 20 schools – two in each region.
The MultiChoice Resource Centre Initiative aims to: Provide access to high quality learning resources to learners and teachers; Extend scarce teaching resources to a wider and diverse audience; and Deploy technology in a cost effective manner to improve education and not as an end to itself. It is therefore enormously satisfying for us, as a Ghanaian business, to make this meaningful contribution to develop the communities that make the markets in which we operate. MultiChoice provides the schools with the equipment as well as access to the DStv Education Bouquet. Comprising seven premium channels, National Geographic, Discovery Channel, History Channel, SABC Africa, BBC World, Animal Planet and Mindset Learn, the Bouquet combines the sound and imagery of television to support teaching and learning.
The first phase of beneficiaries was Ada Secondary, Nsein Secondary, Simms Secondary, Kadjebi Secondary, Sacred Heart Secondary, Ola Secondary, Acherensua Secondary and Akumadan Secondary Schools.
The second phase included Wa Secondary School, Upper West Region; Walewale Secondary Technical School, Northern Region and St. Augustine's Secondary Technical School, Bogoso (Western Region).
This years initiative which was launched by the Honourable Alban Bagbin, will equip nine more schools with the facilities. They are Nifa Snr Secondary school – Eastern Region, Aburi Presby Sec Tech – Eastern Region, Damango Secondary School – Northern Region, Enyan Denkyira Sec Tech. – Central Region, Ningo Sec Tech. – Greater Accra Region, Notre Dame Secondary – Upper East, Region, Bongo High School – Upper East, Region, Queen Of Peace Secondary – Upper West, Region, Mfantsiman Girls Senior High School – Central Region