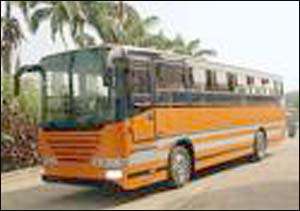 Metro Mass Transit Bus IN WHAT can be likened to a Hollywood movie, passengers onboard a metro mass transit bus with registration number GW 3384 Z from Kumasi to Dunkwa-on-Offin in the Central region, on Wednesday had the shock of their lives when they discovered a man believed to be in his mid 30s having sex with a woman in the moving bus.     
The man, pretending to be an alien, refused to mention his name when DAILY GUIDE tried to interview him.
A passenger who pleaded anonymity told this paper that since the bus was the last one from Kumasi to Dunkwa, it was only partially full, allowing many of the passengers to lie down comfortably on the empty seats.
She said when the bus got to Obuasi, some passengers seated close to the rear where the incident allegedly happened, heard a woman moaning and immediately alerted the driver.    
When the light in the bus was switched on, the two lovebirds were caught having sex.   
The bus driver then stopped and insisted they got off the bus, but some passengers pleaded for them to be allowed to continue their journey.    
At their destination, the woman, in a bid to cover up her identity, left the bus station in a taxi, while the man walked away in a different direction.   
The case was reported to the Dunkwa Municipal Police, but there was only one officer on duty who said he could not leave the office to arrest the culprits.  
By Frank Ossei Kwame, Dunkwa-on-Offin