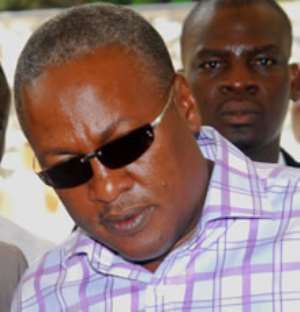 Vice President John Dramani Mahama has called for changes in the country's penal justice system towards a more humane policy that aims at transforming prison inmates to be useful citizens after their jail term.
Ghana's social control policy should place emphasis on equipping prison inmates with skills that will make them integrate into society after serving their term, he said.
Vice President Mahama was interacting with the high command of the Ghana Prisons Service led by its Director General, Mr William Asiedu, at the Castle, Osu, on Friday.
The Vice President's statement was against the backdrop of evidence indicating that people who were in prisons in Ghana turned to acquire more delinquent habits than before they entered and the situation must be reversed for the better.
Mr Mahama stressed that there was the need to restructure the orientation of the Prisons Service to be in line with modern practice that stresses transformational justice rather the retributive justice.
Mr Asiedu said the Prisons Service was retooling its laboratories with the view to equipping inmates with vocational skills, although some challenges still remained to be tackled.
Among the challenges that the service must have to deal with include how to motivate prisons officers by way of enhancing their conditions of service.
Mr Asiedu also pointed to some positive developments such as the completion of a modern correctional facility at Ankaful in the Central Region to hold 3,000 inmates.