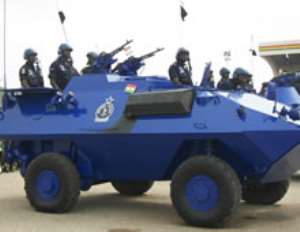 The police administration says it is taking steps to prevent a recurrence of the violence in Agbogbloshie, a suburb of Accra.
The slum area has been the scene of violent clashes between supporters of the ruling National Democratic Congress (NDC) and the opposition New Patriotic Party (NPP).
The Police Public Affairs Director, Kwesi Ofori, told Joy News on Friday the service is in full control of the situation.
He indicated that a combined team of soldiers and policemen have been deployed to the area to ensure that peace is maintained in the area.
Clashes between residents of the area have been near-bloodbath.
The last of such encounter was characterised by attacks with clubs, sticks and machetes while billows of smoke wafted over the shanties. Several people were injured.
Currently, there are reports of stockpiling of weapons by both supporters of the NDC and the NPP.
Mr Ofori has however indicated that a rapid deployment force from the service is currently assisting the James Town police to arrest persons believed to be engineering the perennial clashes.
"Our men are there to respond to the situation, conduct patrols and also gather information that may enable them to prevent crimes in the area," he told Joy FM.
Story by Fiifi Koomson