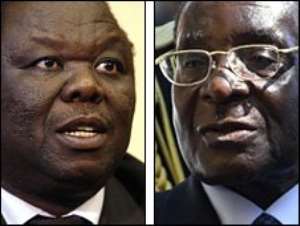 A senior opposition official and ministerial nominee has been arrested in Zimbabwe ahead of the swearing in of a new unity cabinet, his party says.
Roy Bennett, the MDC's choice to become deputy agriculture minister, was reportedly seized at a Harare airport.
The white farmer, who lost his property under President Robert Mugabe's land reform programme, has previously reported death threats.
MDC leader Morgan Tsvangirai and Mr Mugabe have agreed to share power.
Despite the arrest, the swearing in of the new cabinet is under way in Harare.
President Mugabe's Zanu-PF will have 15 posts and the two factions of the MDC 16.
Bitter rivals
Movement for Democratic Change spokesman Ian Makone said Mr Bennett was arrested at the small Charles Prince airport, north-west of the capital, Harare.
On Thursday, Mr Bennett told the BBC that he was in hiding as the security services had issued an arrest warrant for him.
The BBC's Andrew Harding in Harare says Mr Bennett was in no doubt that Zanu-PF hardliners were trying to scupper the new coalition.
"They want us to walk away from this deal. We've just got to be smarter than them," he said.
Before the swearing-in ceremony, MDC leader and Zimbabwe's new Prime Minister Morgan Tsvangirai told the BBC the country was "on its knees" and key priorities had to be dealt with.
He said the humanitarian situation needed to be tackled, with schools being re-opened and the cause of the cholera epidemic being eradicated.
"We have to find a solution to the country's crisis," he said.
"Mugabe may be part of the problem, but he's also part of the solution. I am sure the reverse will also apply to me from their side.
"But we have reached the stage now where we say we have to have a negotiated settlement, for the sake of the people."
The formation of the government has also gone ahead despite MDC concern about the fate of imprisoned activists.
The MDC says more than 30 people, including 72-year-old man Fidelis Charamba, are still being held after being abducted and illegally detained.
They have been accused of subversion and recruiting fighters to overthrow Mr Mugabe - charges denied by the MDC.
Mr Mugabe, who has ruled Zimbabwe for 28 years, has promised to co-operate in the unity government.
The MDC agreed to the power-sharing deal in January after disputed elections last year led to months of political deadlock.