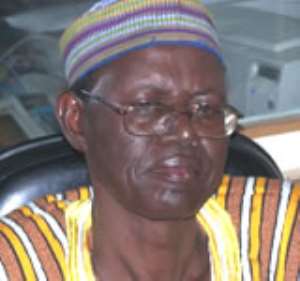 The former Member of Parliament for Zebilla, Mr. John Ndebugre says the Water Resources, Works and Housing Minister that never was, Mr Moses Asaga did not nothing wrong.
He said the Nabdam MP was being punished for nothing adding that "Asaga has been made a scapegoat".
Speaking to the host of Joy FM's Current Affairs Programme, Front Page, Kweku Sakyi-Addo, Mr. Ndebugre said he was aware "Asaga was in touch with various players in the matter."
"There are some people who are stampeding the president into taking decisions that may not be very good for him personally and for Ghana as a nation. Asaga did nothing wrong. If Asaga has been removed why is the Chief Director (of the Ministry of Finance) left in his office? He was the one who wrote the letter and sent it to Asaga to sign."
The MP for Nabdam, Mr. Asaga's nomination was withdrawn for approving payment of ex-gratia benefits for former MPs.
The MP for Bongo, Mr. Albert Abongo, has since been nominated by the president to replace him.
The withdrawal of Mr. Asaga generated heated controversy with people particularly from the ruling NDC endorsing the actions of the president and vilifying the former Deputy Finance Minister.
On the contrary, members of the opposition NPP have rather defended Mr. Asaga's actions accusing the president of heavy handedness.
Mr Ndebugre said the Chief Director, who wrote, signed and sent the letter to the Controller and Accountant General's Department should have been punished if Asaga was wrong.
He said the letter was returned by the Accountant General's because of the directive from the presidency suspending all payments.
According to him, since government had redirected that statutory payments could be made, Asaga only minuted on the letter to allow the payments which were under statutory payments to be done.
Touching on the proposed review of the ex-gratia benefits by the president, Mr. Ndebugre said the action of the president was unconstitutional and illegal.
He said a delegation of both Majority and Minority was due to meet with the president to discuss the review of the benefits.
Serving notice he will be heading for the courts if persuasion of the president to rescind his decision fails, he said: "I have earned that money and I intend to collect it so if all non-litigious methods are failing I will have to visit the place where a definitive decision will be taken."
Mr. Ndebugre warned if care is not taken, sensitive people in the country will not go into public service and the nation will be forced to "collect low grade people into your Parliament and your executive and they will mess up things and then you will compare the expenses involved in that to cost of getting dedicated quality people to do the work of the nation".
Story by Malik Abass Daabu