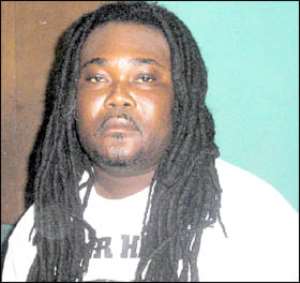 Armah Rasta, the land guard boss A notorious land-guard boss, Nii Armah Hyde aka Armah Rasta, has been nabbed by the Accra Police Command and arraigned for assault.
Presenting the facts of the matter, Insp. Charity Derry said the suspect, in the company of 12 macho men, descended on the plaintiff at Aplaku on January 21, 2009, and without any provocation, ordered the men to beat the plaintiff and her labourers.
The plaintiff, according to the prosecution, had legally acquired a parcel of land from Vanderpuye Orgle Estate Limited at Aplaku where she had hired labourers to work for her.
It was whilst she was on the land at about 11am on the said day that the incident happened.
The macho men also damaged a Polytank valued at GH¢950.00 by perforating it with a pickaxe.
A sun-shed valued at €180 was stolen by one of the men, and a KIA truck with registration number GW7932Y had its windscreen and window glasses damaged as well.
The first attempt by the police to arrest the accused resulted in a scuffle in which his boys struggled with the police, thus allowing him to escape.
However, he was put under surveillance by the police who arrested him on February 5 this year.
Armah Rasta, who made his second appearance in court on Wednesday, was granted a GH¢20,000.00 bail with three sureties to be justified, and was asked to reappear on February 17.
By Rocklyn Antonio