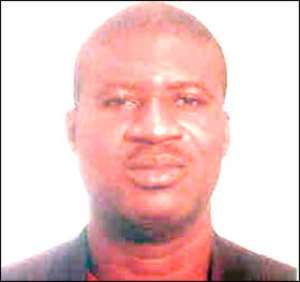 Kalafa aka Strong
The desire of a young Moslem man, Kalafa Muhsin also known as 'Strong', to convert to Christianity to be married to his girlfriend, Monica Benson, has turned into a nightmare as his relatives have vowed to 'eliminate' him.
The fear of losing his life forced Kalafa to flee the shores of Ghana to sojourn in the United States of America.
Speaking to DAILY GUIDE from his base in the US, Kalafa said he was born into a conservative Moslem family and that in August 2006, he decided to convert to Christianity.
He received his baptism from Rev. Samuel Nii Boye Lartey of the New Waves Revival Mission Church, despite attempts by his family members to dissuade him from doing so.
"On December 25 2006, I went to church only to come back to see my workshop vandalized, so I have to run away and hide at my girlfriend's house," he narrated.
The family members were alleged to have traced 'Strong' to the girlfriend's house where the two lovers were subjected to severe beatings amidst threats of death.
The way out, according to 'Strong', was to flee the country; so he and the girlfriend managed to escape to the US. They were again trailed with the aim of arresting them, but Monica managed to escape.
'Strong' mentioned to this paper that the whereabouts of Monica is currently unknown, a situation which is creating problems in her family with the father sometimes accusing him (Strong) of being responsible for the disappearance of his daughter.
He denied knowledge of the whereabouts of Monica but insisted that she is still alive in the US.
When DAILY GUIDE contacted Rev. Lartey, he confirmed the story and prayed for the survival and reunion of the two lovebirds.
He said it was wrong for the family members of Kalafa to infringe upon the religious rights of their son.
By Wisdom Peter Awuku