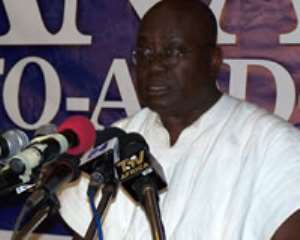 Nana Akufo-Addo, former Foreign Affairs Minister and presidential candidate of the New Patriotic Party in the December elections, has returned two official vehicles to the ministry.
The vehicles, a Nissan Patrol four-wheel drive and a Toyota Landcruiser four-wheel drive, were described as generally in good condition.
Confirming the return of the vehicles in a letter to the government, a copy of which was made available to the Times, Abdulai Amadu Abukari, acting Director of Estates and General Services Bureau of the Ministry of Foreign Affairs, who signed on behalf of the Chief Director, said: "I wish to report that the abovementioned vehicles were returned to the Ministry on 8th February, 2009.
"They are generally in good condition, except that vehicle No. GT 5621 T (Nissan Patrol 4x4) has a discharged battery and GT 1983 x (Toyota• Land Cruiser 4x4) has faulty starter brushes," it said.
A source close to the government said "we received a confirmation from the Ministry of Foreign Affairs on Monday."
Nana Akufo-Addo left government and launched his bid to become the flag-bearer of the NPP in August 2007.
Meanwhile, a number of NPP Ministers and functionaries yesterday called on telephone to the Times to protest about the reported retrieval of 39 high-performance vehicles from them by the NDC government.
Kan Dapaah, former Defence Minister, Ama Busia, Member of the Council of State, Kwadwo Mpiani, former Chief of Staff, D.K. Osei, Secretary to the ex-president, and the wife of Joe Ghartey, former Attorney-General, and O. B. Amuah, former deputy Minister of Sports, all said they drove the vehicles to the Transitional Secretariat and handed them over to the team in charge of Executive Assets. They insist that the vehicles were never retrieved from them; they voluntarily returned them.
Naa Bortei-Doku, daughter of Mrs Mary Chinery-Hesse, Special Adviser to former ex-President Kufuor, also called the Times to say that the official car assigned to her mother never spent a night at her mum's residence.
She said as a routine the car picked her mother from the house each morning for work and brought her back in the evenings after which the car was returned to the Castle. .
The ''Times' published yesterday that 39 vehicles were retrieved from President J.A. Kufuor and other members of the former government, and party functionaries.