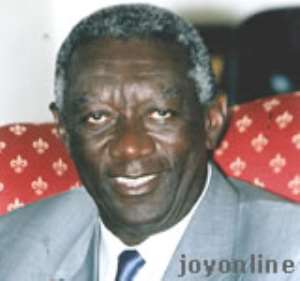 In the name of democracy my people have forgotten my commands. In the name of freedom of expression my people have lost control of their tongues. In the name of modernity my people have no respect for the elder. I might be sounding like the prophet Isaiah in the Old Testament but as Amos will say, am not a prophet neither am I the son of any prophet. However looking at the direction in which our society is going I beg to say if we don't curb our tongues, that little things yet wilder than a lion and fiery than a flame, we will one day slaughter each other.

I have never been a sympathizer of NPP neither have I been a lover of JJ but instead an upholder of truth. What is wrong is wrong, it doesn't depend on whose lens you view through. The ex-gratia issue has not only dominated the air-waves but also dominated domestic discussions. It is absolutely absurd when we encourage people to talk about it with abusive words. For God's sake we cannot throw our ex-presidents to every nook and cranny to be pecked as if they are of no use in our society. It's true that the ex-gratia is a heavy-yoke on the neck of country with economy weak limbs, thus we shouldn't allow it to happen. Besides what is happening? I strongly feel the issue is being laid aside, and key people in the former administration are being called names, abused and demonized. The question I will want to pose at this moment is "Is it right to call especially ex-president Kufuor names?"

We might be appealing to the precepts of democracy, freedom of speech and modernity, well it is true these gives the individual the right to express him/herself, surely am not referring to Tigo [express yourself]. Yet we should express ourselves in a manner that befits morally cultured modern citizen. Listening to a lot of people the whole argument bores downs to ethics, and this is where I come in, if we are arguing ethically, our conduct throughout the argument must be ethical. No calling of names, no abuse and no demonization but dealing with the issue at stake.

A second thing, I will want to draw my fellow citizens´ attention to is the fact that our contemporary world offers us a lot of channels of communication. A very good number of them are not natural but can still be used properly. I wonder how many of those who write or call to insult and demonize will have the courage to insult or demonize our ex-president should they be sitting or standing together. Let's be real. Let's not hide behind cell phones, computers and misbehave.

Thirdly, lets all be aware, whether a Moslem or a Christian that calling names, insults and demonizing are sins, in fact grave sin and if you happen to insult, demonize or call the president or the ex-president names and you are a catholic I will urge you to go to confession.
Get me right, am not saying that the ex-gratia is perfect, it should be looked into. But then the fact that it did not meet the taste of Ghanaians doesn't mean we have the license or certificate or oral insurance to insult, demonize and call names. We can still put our points across without abuse. We can still register our dissatisfaction without tempering with, not the seal of the ballot boxes but the respect due our ex-president Kufuor. Please respect the Man!



By Yirpaale Sondah [email: [email protected]]