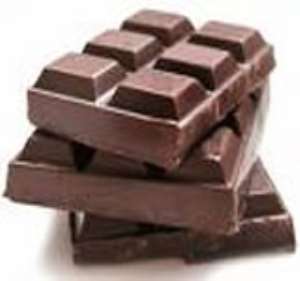 The management of Cocoa Processing Company (CPC) in Tema has assured the nation of more cocoa products especially, chocolate, on the market to enable the public celebrate the Valentine Day in a grand and enjoyable style.

"CPC is putting as much as 250 metric tons of chocolates on the market this year, representing an increase of 90 percent, Mr Ekow Rhule, Public Relations Manager of CPC, told the GNA in an interview in Tema on Thursday.

He expressed optimism that the quantity would be sufficient for the day and beyond, as many depots had been mounted at vantage places, which would receive higher allocations.

He pointed out that since the inception of the CPC, in 1965, production had increased steadily with local demand getting higher from 2007, when the Valentine's Day was declared, "Cocoa Day".

The NPP Administration, in 2007, declared February 14 as 'Cocoa Day' to encourage Ghanaians to patronize the product towards making the 'Campaign for Made in Ghana Goods' a reality.

According to him, it was realised that more people expressed their love by giving out chocolates as gifts.

As a result, he said, the CPC had introduced different types of the 'kingsbite' brand, in addition to special packages in the shapes of hexagon and a pyramid, with all packaged in red, to commemorate the Valentine colour.

Mr Rhule described the price as affordable.

Reacting to the complaint that Ghanaians were unable to heavily patronize the chocolate because it is expensive, he explained that apart from the cocoa beans, which were purchased locally, all other raw materials such as sugar, milk, and others were imported.

The production cost of the high quality product was huge, he said, explaining that the price of cocoa, being an international commodity, was based on the world market price.

The Public Relations Manager, however, assured the public that efforts were being made to explore the use of local materials in their production to reduce the price.

Talking about its recent product, the "Royale", Mr Rhule said it promotes good health by serving as a food supplement; improves blood circulation; reduces high blood pressure and stress among others benefits.

Cocoa's by-products, the cocoa shells, which used to be discarded is now useful to the economy, as it is sold and used for the production for local soap "alatasamina" and manure by farmers.

Pebbles, cocoa butter, cake/powder, and cocoa confectionery - Vitaco and Royale, are other products of CPC.

The CPC has won several international awards due to the high quality of its products.