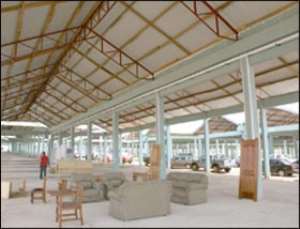 The Sokoban wood market AN GH¢11 MILLION Sokoban Wood Village complex commissioned by former President John Agyekum Kufuor in Kumasi last December is feared to have become a liability rather than an asset to the nation.
The project which was to pave way for the resettlement of wood workers at Anloga Junction to Sokoban seems to have lost its intended purpose as the proposed site seems too small to accommodate the over 2,000 wood workers in the Kumasi Metropolis.
The wood workers have threatened never to set foot at the place until the National Democratic Congress (NDC) administration does something to rectify the situation.
The workers have also threatened violence if authorities do not properly address their plight but force them to move into the village.
In an interview with DAILY GUIDE in Kumasi recently, many of the workers complained bitterly that the design of the Sokoban wood village has nothing to do with their wood work.
They also explained that the wood village prepared for them is too small to serve its intended purpose as it can only contain 300 wood workers.
"How could the then government and the contractors decide to construct 300 structures for over 2,000 workers?" Wisdom Kofi Adzibli, a wood worker wondered.
According to him, there is no way they can move the village as it will create problems and congestion for them.  
In the meantime, funds and other logistics are said to be ready for the workers to use when they move to the site.
At the inauguration of the village, Dr. Richard Anane, former Minister for Transportation, confirmed that funds had also been set aside to ensure that the wood workers acquire all the needed logistics for their stay at the area but most of the wood workers told DAILY GUIDE that that was not their priority.
According to Adzibli, the workers would be pleased if the Kumasi Metropolitan Assembly (KMA) released more land to help resettle at least 2,000 of the workers.
He said since the place can only serve only 300 workers, he cannot understand why the KMA boss, Patricia Appiagyei says   Kumasi can now boast of a one-stop enclave for wood products.
Mr Adzibli appealed to President Mills to provide additional land to over 1,700 wood workers who are willing to construct their own structures.
The Wood Village that forms part of the Kumasi Roads and Urban Development Project was to resettle wood workers from Anloga Junction to Sokoban and ensure smooth construction of the Oforikrom-Asokwa by-pass and the improvement of the Lake road.
The Sokoban Wood Village is consistent with the France-Ghana Partnership Framework Document, signed between France and Ghana in 2006, which defines three main areas of concentration of AFD's activities in Ghana.
From Stella Danso, Kumasi