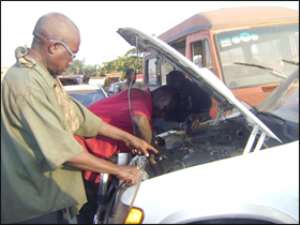 Alhaji Dakpo at work with his boys EXECUTIVES OF the Ghana National Association of Garages (GNAG) have entreated government to consider the construction of industrial villages in major cities across the country to help decongest these places.
Speaking to CITY & BUSINESS in an interview, Alhaji Stephen M. Dakpo, Greater Accra Regional Chairman of GNAG, noted that the crude and shanty nature of individual garages dotted around the major cities undermined the government's capital cities' beautification efforts in addition to being an eyesore.
According to him, government could build industrial cities in collaboration with the private sector and rent the garages to GNAG's members. Furthermore, such villages should have other facilities like nursery, primary and junior high schools for children of members of GNAG, technical institutions where apprentices could be schooled, spare parts stores and wholesale receptacles.
"These would even facilitate easy collection of taxes from garage owners and attract insurance companies to come and do business with us."
He noted that if government inculcated this into its infrastructural development agenda, it would help wipe off many shanty places across country.
"We are hoping that this new government will help us actualize this dream. Vice President John Mahama was here at Odawna with us during the electioneering campaign and gave us assurance that his government will help us should it come to power.
"In 2000, President Kufuor was also was here and I took him around our garages, after which he had a meeting with our members and promised to help us. The assistance will maybe come tomorrow."
Citing the Odawna garages as an example, Alhaji Dakpo said the situation there is worsening since many broken down vehicles have been abandoned there causing lack of space even to operate.
"If a bank can offer to build the structures for us and commit us to pay weekly or monthly fees this will help clear the slums."
He therefore stated that it would be prudent if District Assemblies would help the association to lobby in Parliament and have a legislation passed that will allow the towing away of all such broken down and abandoned vehicles to a common destination. "These could be recycled into iron rods and other products for use."
The regional chairman said GNAG has had offers to purchase land at Kpone, Teshie, Ofankor, Ogbodjo, Mankessim, Tanokrom and some parts of the Eastern region all geared towards building an industrial village but due to lack of funds they have had to lose such offers.
Even though there are about 40,000 registered members of GNAG, mobilizing revenue from them often becomes difficult hence their inability to acquire parcels of land for their projects, he mentioned.
By Samuel Boadi