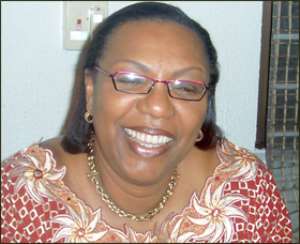 Betty Mould-Iddrissu Soon after her spectacular performance at Monday's vetting of ministerial nominees, Mrs. Betty Mould-Iddrisu flew out of the country.
Sources close to the lawyer suggest that her trip to the United Kingdom where she heads the Legal Department of the Commonwealth Secretariat has to do with a crucial meeting of which she is a part.
Her performance, arguably the most grilling so far, was considered by most feminist groups as a test for Ghanaian womanhood.
When the curtains were finally drawn over her appearance, women who were monitoring proceedings heaved a sigh of relief that the feminine sex has proven its mettle as a force to reckon with.
The lawyer of decades of legal practice was not only a toast of women but many Ghanaians who listened to her as she took her turn in front of the cross-party Appointments Committee of Parliament.
Full of exuberance, she was not discouraged by a panelist's suggestion that as an Attorney General and Minister of Justice, her litigation deficit would not be in the interest of her office.
This she handled dexterously and to the admiration of her interviewers.
She particularly attracted a certain amount of sympathy when she subtly impressed upon the panel that a particular question was too delicate and sensitive and so she would rather it was over-looked. Her description of her situation at that moment of "I am hot" did the trick as she avoided the country's flashest spot.
When she finally surmounts the last hurdle which she definitely would, Mrs. Mould-Iddrisu would not suffer dearth of ideas about running a ministry, as her husband once held the portfolio of Defence Minister under the National Democratic Congress (NDC) administration.
By A.R. Gomda