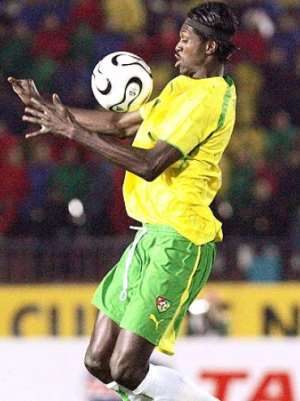 Adebayor
Africa is indeed a funny continent! And again the organizers of the Glo Caf Awards which was held in Lagos, Nigeria showed how funny, bias Africans can be. Adebayor African Player of the Year? Adebayor's triumph is clearly unacceptable and must be condemn in every quarter of the world.
I do now know the criterion for the awards but I can say the criterion needs to be looked out really with an eagle's eye and something done about it. When it got to the time for the African Player of the year award to announced, well meaning Africans or football lovers were anticipating for only one who stands out tall amongst the other nominee: Mohammed Aboutrika, this is a guy who won everything on the African continent so far as football is concerned, Aboutrika plays as a playmaker and attacking midfielder for Egyptian club Al-Ahly as well as the Egyptian national football team. He has been dubbed as the Egyptian Zinedine Zidane for his technical skill and excellent vision of the field.
He won the African champions league trophy with Egyptian club Al-Ahly, Adebayor didn't reach even the semi finals with arsenal in the UEFA champion's league.
He won the African Cup of Nation's trophy with the Egyptian national team and he scored that winning goal to hand the trophy to the Egyptians. Adebayor with his Togo team didn't even qualify for the 2008 tournament in Ghana.
He again won the African Super Cup, where Adebayor can only dream of, in a nutshell Aboutrika won every cup in Africa in 2008, Adebayor didn't even win a ''latrine container'', so why this favouritism in Africa?
Why is Africans bias in everything they do?

Adebayor triumph raises more concerns about the fairness of the awards. So is this why Issah Hayatou wants to be president of FIFA, when he has not put his house in order? CAF and the organizers are fraudsters.

Credit: Ebenezer Anangfio Jnr.
[email protected]