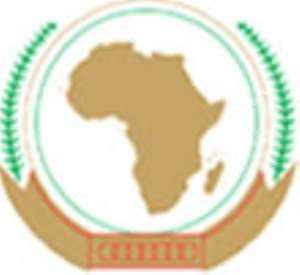 Mr. Alieu Jeng, Resident Representative

of the African Development Bank (ADB) on Wednesday said the
regional economic blocs on the African continent were a major problem
hindering regional integration.
Africa has many regional blocs including the Economic Community
of West African States (ECOWAS), the Southern African Development
Community (SADC), Central African Economic and Monetary
Community (CEMAC), the Common Market for Eastern and Southern
Africa (COMESA), among many others that make it difficult to achieve
regional integration.
Mr. Jeng said, in his view, all the blocs should be reduced to about
five since some of the member states of the African Union (AU) even
had overlapping membership in those blocs.
"To me tariffs are not the main problems delaying the achievement
of the African Unity. It is the non-tariff barriers that have been created
by people that hinder the dream of having a United Africa," he said.
Mr Jeng was speaking at the launch of a report done jointly by the
Economic Commission for Africa and the African Union, titled:
"Assessing Regional Integration in Africa III (ARIA III)."
The report aims, among other things, to asses' regional integration
processes on a regular basis to draw lessons for improving the
integration programme.
Dr Joseph Atta-Mensah, Chief, Regional Integration Officer at the
United Nations Economic Commission for Africa (UNECA), reviewing
the report said financial integration in terms of harmonizing money or
capital market on the African Continent would help ease payment and
facilitate trade among countries in Africa.
"Intra trade among Africans is very low. It is about five percent," he
said, and pointed out that there was the need to increase trading among
African countries.
Dr Atta-Mensah said the report, which particularly focused on
financial integration was looking at possibilities of even integrating stock
markets on the continent.
"For instance, Ghana has a stock market, Nigeria has a stock
market, Cote' d'Ivoire has a stock market, how can we tie in Ghana's
stock market to let say Cote d'Ivoire's stock market? Can a Ghanaian
buy shares on the Nigerian stock exchange?"
He noted that already there were some monetary unions in place
among some regional blocs that used a single currency and stressed the
need for the whole African continent to have a single currency since
that could also help achieve the needed development.
"Monetary union with a single currency in Africa would therefore
reinforce the single market," he said and added that a one market
system needed one currency.
Dr. Atta-Mensah announced that, it had been agreed by the African
Union that they would establish an African Central Bank to be situated
in Nigeria, an African Monetary Fund in Cameroon and an African
Investment Bank in Libya, but said it was urgent that as a continent;
"we do something about the multiplicity of currencies".
He also said the UNECA was planning a programme dubbed:
"mainstreaming regional integration in Africa," where his organization
intended to meet with sections of civil society to explain such monetary
policies on the continent.
Dr Temitope Oshikoya, Director General of the West Africa
Monetary Institute (WAMI), said financial integration would help the
African continent to withstand globalization since no one country could
do it alone.
Making reference to the global financial crisis, he said, shocks
emanating from the global scene could be minimized if Africans had a
common market.
"Monetary integration is a long term project," he said, and urged
Africans to support the programme because African integration was a
strategy for African Development.
Dr. Mahamadu Bawumia, Former Deputy Governor of the Bank of
Ghana, who chaired the programme, advised African governments to
take the issue of economic integration very seriously.