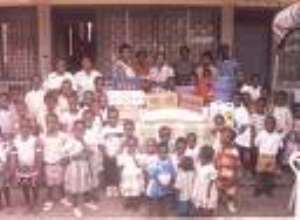 An Assistant Director of the Department of Social Welfare said on Wednesday the review of care reforms was to ensure that Ghana's orphanages became safe for the vulnerable children in society.
In an interview with the Ghana News Agency in Accra, Mr. Lawrence Ofori Addo denied the perception that the Department was trying to address its failures over the years after the problem with the Peace and Love Orphanage arose.
The reforms were taking place all over the world and Ghana was no exception, he said.
Mr Ofori Addo said the review revealed that the country had over 140 unlicensed orphanages and attributed the increase among other things to HIV/AIDS which had rendered many children orphans.
He reiterated that the Department was constantly in touch with orphanages through discussion and workshops with proprietors on whether conditions and facilities provided were right and not because of the Peace and Love Orphanage problem.
Mr. Ofori Addo said Orphanages would be properly licensed and regulated and that those who did not meet the requirements would be closed down.
Asked what would happen to children of the affected homes, he said the Department was tracing families to enable some of the children to return home and also revive fostering to facilitate the training of children in the family structure.
The Assistant Director said most children were given away to orphanages not because they were orphans but due to poverty.
He admitted that though the department had the mandate to ensure that institutions were properly licensed and regulated, there were limitations because of logistical constraints which made the work extremely difficult.
He explained that most of the regional and district offices had no vehicles making access to the community to trace families a difficult task in addition to understaffing.
Mr. Ofori Addo said Non-Governmental Organisations (NGOs) and persons who expressed interest in opening such facilities but did not meet the requirement were advised to use their facilities for vocational training so that some of the children from the orphanages go for training.
He said studies had shown that orphanages were not ideal for training children, hence they should be the last resort for bringing up children.
"Most people have turned the homes into orphanages and do not have the needed trained personnel such as psychologists, social workers and paediatric nurses attached to the facilities", he said, added that, the reforms would take care of those gaps.
The Children' Act stipulates that adults are supposed to protect children under their care and that parents or Guardians can be prosecuted if they fail to protect their children from harm.
Orphanages in the country as well as the Department of the Social Welfare have come under attack after one of the institutions, Peace and Love was cited recently as a haven for sodomy.