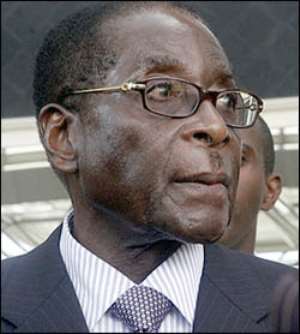 President Robert Mugabe TYRANT Robert Mugabe sparked outrage last night after lavishing himself with a champagne-fuelled lobster celebration for his 85th birthday.
The evil dictator has ordered 2,000 bottles of vintage bubbly, 8,000 lobsters, 4,000 portion of caviar as millions of his own people starve.
Demanded
He has indulged himself with 8,000 boxes of Ferrero Rocher chocolates, 500 bottles of Johnny Walker whisky, 100 kilos of prawns and 3,000 ducks.
And he has demanded international supporters send him cash gifts of around £25,000 to celebrate.
Last night there was fury at the Zimbabwean leader's party arrangements.
Seven million of his own citizens rely on food aid to survive.
Shadow foreign secretary William Hague, said: "To indulge in such decadence, while the people of Zimbabwe are dying of starvation and the country lies in ruins, is a testimony to the dictatorship of Robert Mugabe, a man who rules unrestricted by law or basic humanity."
Mugabe has sent out demands from businesses around the world for his presents list.
Firms in Zimbabwe have been threatened by Mugabe's henchmen to cooperate or face hurdles which will prevent them doing business.
Hundreds of cattle, goats and sheep are also to be slaughtered to celebrate the dictator's birthday on February 28.
Two years ago he commandeered the national football stadium for 20,000 "guests" to party.
This year he is demanding firms stump up 2,000 bottles of Moet and Chandon or 1961 Bollinger vintage champagne.
There will be 3,000 chocolate cakes, 4,000 packs of sausages, 500 kilos of cheese and 4,000 packets of crackers.
Zimbabwe has been ravaged by an outbreak of cholera and 94 per cent of its people are jobless.
Inflation is rampant and money worthless in the wrecked economy.