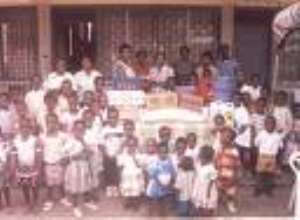 The Department of Social Welfare has identified three more orphanages that it says are not of standard to operate and has earmarked them for closure in the first quarter of this year.
This- comes at the heels of the closure of the, Peace and Loye Orphanage as a result of alleged sexual abuse of some inmates.
The Co-ordinator of the Care and Reform Initiative of the Department of Social Welfare, Mrs Helena Obeng Asamoah, who disclosed this in an interview with the Daily Graphic yesterday, however, did not mention the names of the orphanages.
"The discovery at the Peace and Love Orphanage is an eye-opener and this should be a warning to everybody," she said, and announced a nation-wide exercise intended to clamp down on orphanages not of standard to accommodate children.

She said the decision to embark on the exercise to close down substandard orphanages was taken before the closure of the Peace and Love Orphanage, and that this is something on the programme of the department.

Mrs Asamoah said before the closure of an orphanage, places would have to be found for the inmates so that they would not be exposed to other forms of danger.
For instance, she said children from the Peace and Love Orphanage operated by actress Grace Omaboe had been sent to their families and foster homes.
She said a census conducted by the department in 2006 revealed that there were 148 orphanages in the country, and that since the database was collected on the orphanages, support in the form of training had been provided for them.
Mrs Asamoah said despite the training on how to cater for the inmates, some of the orphanages were still not doing what they had been taught to do.

Meanwhile, the Executive Director of Child's Rights International, a non-governmental organisation (NGO), Mr Bright Appiah, has called for a thorough look into the operations of orphanages in the country.
"Our information is that about 90 per cent of the orphanages in the country are operating far below standard. Also, only a few are registered with the Department of Social Welfare," he told the Daily Graphic.

Mr Appiah said it was sad that most of the orphanages were not operating up to standard and that the focus should be on how to improve them.
That, he said, was to ensure that they met the increasing needs of the children sent to such facilities, .adding that children in orphanages needed counsellors, among other support services, to be well-developed.
He noted that once orphanages operating below standards were identified they could be supported to do the right thing, and indicated that it would not be right to close down all such facilities.