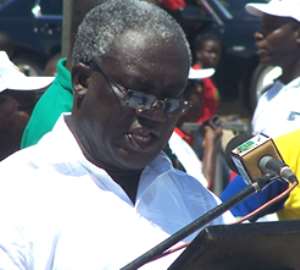 Organised labour has called on the government to formalise the process leading to the full implementation of the Single Spine Salary Structure (SSSS).
It said the issue of the pay structure was very crucial in maintaining peaceful industrial relations hence the need to expedite action on it.
The Ghana Trades Union Congress (GTUC) made the call when a delegation, led by its Secretary-General, Mr Kofi Asamoah, called on President J. E. A. Mills to congratulate him and the vice president, Mr. John Dramani Mahama on their election to their high offices.
The union also used the opportunity to discuss with the President labour related issues such as challenges on pensions, end-of-service benefits (ESBs) and international trade policy.
The SSSS is designed to cover all public sector workers under Article 190 of the 1992 Constitution. They include the Civil Service, the Judicial Service, the Audit Service, the Ghana Education Service and the Prisons Service, the Internal Revenue Service, and the Value Added Tax (VAT) Service.
Mr Asamoah pledged the union's co-operation with the government to ensure that the process of pay reform, which began in 2006, came to its logical conclusion.

He said organised labour participated fully in the process towards the design of the single spine up to a point where the consultants submitted their report to the government in July 2008.
"We were assured by the then Minister of Public Sector Reforms that the report had been submitted to Cabinet for approval and that the SSSS will be implemented from January 2009," he said.
He said government was expected to issue a White Paper on the structure, which was to serve as basis for the Fair Wages and Salaries Commission (FWSC) to implement the new structure.
Mr Asamoah said the union was denied the opportunity to negotiate the base pay on the single structure and the percentage differentials across the pay points on the structure and other related issues.
On pensions, he said the pension system had been fraught with several challenges, adding that apart from the low levels of pensions, pensioners had to go through difficulties before their pensions were paid to them.
He welcomed the proposed three-tier pension system and the establishment of the Pensions Regulatory Authority, adding, "If implemented, it will enhance pensions and raise the standard of living of pensioners."
He appealed to the President to intervene to reintroduce ESBs for public sector workers.

On the international front, Mr Asamoah expressed disappointment at the past government's decision to initial the Interim Economic Partnership Agreement (IEPA) with the European Union.
President Mills, for his part, described the issues raised by the union as "pertinent", saying such issues would be considered for the good of the ordinary Ghanaian.
He said the government had several obligations towards the people, stressing that "we politicians should not think we are a class apart from the ordinary people."