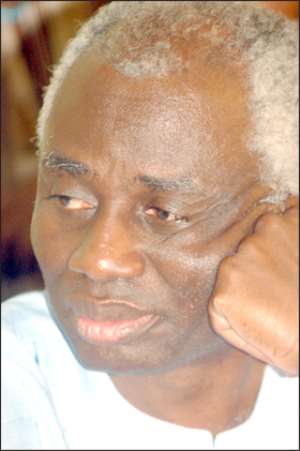 Tsatsu Tsikata After winning the right to have a mini-trial to establish a case of bias against Justice Henrietta Abban, the judge who ordered him jailed, the former Chief Executive of Ghana National Petroleum Corporation (GNPC), Tsatsu Tsikata has gone to the Supreme Court to have his conviction reviewed.
Tsikata was at the Supreme Court yesterday for a review of his application to quash the decision of Mrs. Abban who sentenced him to five years for causing financial loss to the state.
Earlier, his application was thrown out by the same court on grounds that there was no order stopping the Judge from going ahead with the judgment among other reasons.
Counsel for Mr. Tsikata, Prof. E.V. Oware Dankwa moved two applications for leave of extension to complete the statement of case and for extension of time to adduce fresh evidence into the case.  
He told the court presided over by Justice William Atuguba that there were exceptional circumstances to prove the merit of the introduction of fresh evidence into the case.
According to him, the utterances of Justice Abban after delivering the judgment showed her prejudice towards his client, adding that the heavy police presence on June 18 2008, just before the judgment, showed it had already been done.
Matthew Amponsah, Chief State Attorney, representing the Attorney-General, said he was not opposed to bail on the application for extension of time to complete the statement of case but he was opposed to the addition of fresh evidence.
The State Attorney explained that before one could ask for fresh evidence to be introduced, there must be exceptional circumstances and indicated further that the circumstances in the case are not exceptional.
For him, this new evidence should have been added before the judgment had been given on the case and wondered what else he had to add at the point.
He also noted that additional evidence in the matter should be one that is credible and should help the court to arrive at the truth but stated that a verdict had already been given on the case.
He said for one to be allowed to introduce fresh evidence into the case then there must be a conflict between what was said and what was before the court which was not the case.
By Fidelia Achama