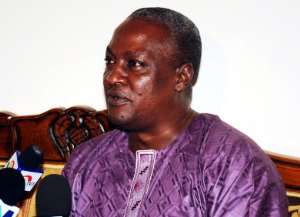 Vice President John Dramani Mahama   Vice President John Dramani Mahama has called for optimum transparency in the presentation of the state of the country's economy by development partners, for Ghanaians to have a true picture of the economy.
'There is the need to always maintain transparency in what the economic realities are,' he said at a meeting with the economic management team and a delegation from the International Monitory Fund at the Castle, OSU in Accra last Friday.
The economic management team and the IMF officials, who have jointly been discussing areas for the IMF's intervention in the 2009 national budget, which is being prepared, were at the Castle to brief the Vice President on the outcome of their discussions.
He said it is necessary for all stakeholders, including Government, labour, employers, donors and investors to know the true state of the economy 'so that we can take decisions together'
According to the Vice President, without transparency, there will be mistrust about the economic figures that will be put out by the Government.
Referring to recent inconsistencies discovered by the economic management team, he said it is worrying that the Government has found the economic figures to be worse than what have been presented to the public by the previous administration.
For instance he said, the budget deficit has been found to be 13 per cent and not nine percent as the public was made to understand.
Without openness, he said, it will be difficult to ensure effective and efficient management of the economy, especially in financing the budget deficits.
The Vice President lauded the cooperation between Ghana and the IMF, saying 'we value the relationship with the IMF even though there have been ups and downs'.
He stressed the need for viable options in addressing the country's budget deficits, especially in the infrastructure and energy sector, adding that 'we want to discuss what the alternatives are'.
In his remarks, Peter Allum, Deputy Senior Personnel Manager, African Department of the IMF, who led the IMF team, observed the challenges facing Ghana in developing her annual budget amid the global financial crisis which is taking a toll on many economies.
He said although Ghana has the capacity to achieve some economic targets, there should be no room for complacency.