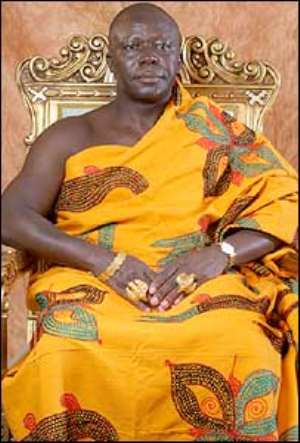 The Most Reverend Peter Kwasi Sarpong, the immediate-past Metropolitan Catholic Archbishop of Kumasi has expressed concern about the attitude of some traditional rulers who oppressed rather than liberate their subjects.
He said some of those rulers used untruthfulness, dishonesty and injustices to create tension and disunity in suppressing their people.
Most Reverend Sarpong was launching the 10th Anniversary Celebration of the enstoolment of Otumfuo Osei Tutu II, Asantehene at a colourful durbar at the Manhyia Palace in Kumasi on Monday.
Under the theme; "A Decade of Inspirational Leadership, Peace and Progress," the anniversary will be climaxed with a durbar of the Chiefs and people of Asanteman on April 25 this year.
Other activities planned for the anniversary include unveiling of a statue of Nana Afua Kobi Serwaa Ampem, Asantehemaa, Symposium, Photo exhibition, video shows, debate and quiz competitions, drama, religious services, sports and gospel music festival.
The former Metropolitan Archbishop noted that traditional rulers epitomized the culture and tradition of the people to bring about peace, security and progress.
He stated that the modern world needed a visionary chief who would pursue justice, honesty, unity and security of the people.
Archbishop Sarpong regretted that the sacred chieftaincy institution was being perverted by some actions and behaviours of some chiefs.
He was, however, happy that under the leadership of Otumfuo Osei Tutu II, there had been a tremendous transformation of the chieftaincy institution as was manifested in the numerous socio-economic development projects and programmes he had initiated in the last decade.
Archbishop Sarpong, therefore, entreated traditional rulers to be truthful and transparent in their endeavours to benefit their people.
Nana Otuo Serebour II, Juabenhene, who is the Chairman of the Planning Committee, said with support from institutions, organizations and individuals, the programme which ends in May this year, would be highly successful.
More than GH¢ 350,000 was realized through contributions from various corporate bodies and non-governmental organizations