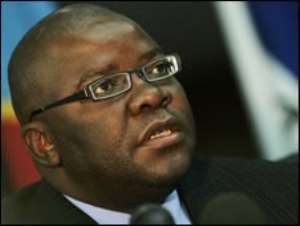 Zimbabwean opposition leader Morgan Tsvangirai has named Tendai Biti as his choice for finance minister in a unity government with Robert Mugabe.
Mr Biti is secretary general of the Movement for Democratic Change (MDC), Zimbabwe's main opposition party.
Last week a Zimbabwean judge dropped treason charges against Mr Biti over an alleged coup plot, citing lack of progress in the case against him.
The cabinet in the new coalition government will be sworn in on Friday.
Mr Biti's new position will be a key one, given the country's economic collapse.
It was once considered the breadbasket of southern Africa, but now suffers some 90% unemployment with inflation running at the last estimate at 231m%.
Vocal critic
Under the terms of last September's power-sharing deal, Mr Tsvangirai was given the choice of finance minister.
Once in the job, Mr Biti would focus on creating economic stability and attracting foreign investment, said Mr Tsvangirai - who is himself set to become prime minister on Wednesday.
"This [finance] ministry's mandate is to create a stable economic environment for all Zimbabweans... and to establish Zimbabwe as a strong investment centre," Mr Tsvangirai told a news conference, according to Reuters news agency.
Mr Tsvangirai also demanded that political detainees in Zimbabwe's jails be released prior to his swearing in - though he did not say what he would do if they were not.
Mr Biti - a lawyer and founding member of the MDC - is one of Mr Mugabe's most trenchant and vocal critics, say observers.
Shortly after the treason charges were dropped against him, he renewed his commitment to "finish this job that we started of removing the dictatorship of Robert Mugabe".