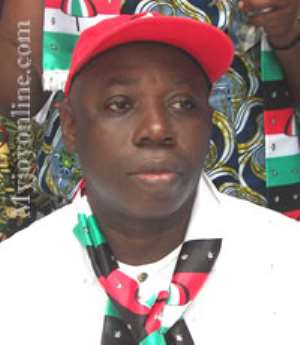 Listen to Alhaji Mohammed Mumuni
The Minister of Foreign Affairs and Regional Integration-designate, Alhaji Mohammed Mumuni, says the Minority in Parliament walked out on him during his vetting because they failed to listen to their conscience.
Following a protracted debate on whether the vetting of the nominee could proceed against the backdrop of a pending court case on an Auditor General's report which implicated Alhaji Mumuni, Members of the Minority on the Appointments Committee of Parliament yesterday boycotted his (Mumuni's) vetting. This was after the Chairman of the Committee, Edward Doe Adjaho, had ruled for the vetting to proceed.
But Alhaji Mohammed Mumuni tells Joy News he is disappointed about the decision of the Minority to stage a walkout on his vetting.
"I have no doubt at all in my mind that, individually, when the Members of Minority consult their consciences, I have no doubt at all in my mind that they will realize that they have erred; and have erred grievously."
The stance the Minority side took, surprised Alhaji Mumuni who thought under Ghana's current democratic dispensation, they would have considered such an action as a thing of the past.
"I thought our democracy has come of age and that people will show tolerance no matter how much you dislike somebody you will at least give him justice; you will listen to him out and judge him on objective basis."
Those who argued in favour of proceeding with the vetting of Alhaji Mumuni averred that it would be prejudicial for the Committee to go ahead and probe the alleged report of the Auditor General as the court was yet to make a determination of the matter.
Whilst the Majority argued that the report had not been laid before Parliament to determine the veracity or otherwise of its findings, the Minority, on the other hand, stated that their hands were tied to comments on a case pending before the courts.
"Nobody shall be pronounced guilty until he is proven guilty. So once he has not been proven guilty, what it simply means is that we set aside this [case], we go on with our vetting, go through it and if later the court decides that the fellow is guilty of the offence then the President who has nominated the person takes it up," Dominic Azumah, NDC MP for Garu Tampane argued.
"Our hands are tied. He owes it to his own conscience to abide by the outcome of what the court will pronounce. How can we pursue this vetting of this honourable man if a stigma of such size is also hanging around him?" MP for Abuakwa South, Atta Akyea questioned.
The 2004 report by the Auditor General accused the former minister of causing a colossal sum of 15 billion old cedis through his involvement with an NVTI loan and another accusation of "fraudulently" releasing "amounts in excess of 19 billion old cedis from the Consolidated Fund."
Story by Isaac Essel