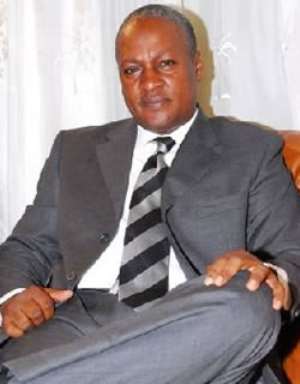 Vice-President John Dramani Mahama has called on the International Monetary Fund (IMF) and the World Bank to be transparent in pointing out the real economic situation to government officials and the populace especially during election year.
He said the discrepancy between figures churned up by the IMF and the World Bank to government officials and the real situation on the ground does not make their operations transparent.
The Vice-president made the remarks when he met members of the Economic Team of the Government Transition Team led by Torgbui Afede, officials of the Bank of Ghana, led by Dr. Paul Acquah, Ministry of Finance and Economic Planning and officials of the IMF led by Peter Allum.
According to Mr. Mahama, the IMF and the World Bank have become notorious for praise-singing a particular government and immediately that regime goes out of power, the same international institutions come to say different things about the economy.
He mentioned specifically the report from the IMF and the World Bank during the last elections where the impression was created that Ghana's economy was doing well under President Kufuor only to turn round to give a gloomy picture of the economy when the National Democratic Congress (NDC) won power.
The Vice-president informed the officials that the government is preoccupied with tackling the economy and that the much awaited budget would be out soon.
Mr. Mahama said the government values the relationship between it and the Bretton Wood institutions and called for the harnessing of such relationship to promote growth and alleviate poverty.
He indicated that one of the challenges facing the government is microeconomic stability and that prudent measures are being taken to contain the situation.
Vice-president Mahama called for multi-sectoral interaction among stakeholders and labour.
Torgbui Afede on his part, said the Economic Team of the Transition Team has received support from officials of the BoG, Ministry of Finance and Economic Planning and all the revenue collecting agencies in its effort to find the way forward.
He said the recent retreat held at Akosombo to strategise on the budget had been importance to their work.
Torgbui Afede mentioned that preliminary indications have shown that there are many options and opportunities to draw on for the fixing of the budget.
Also at the Castle to call on the Vice-president were members of the Ghana-China Friendship Association (GHACHIFA) led by Ambassador Kojo Amoo-Gottfried.