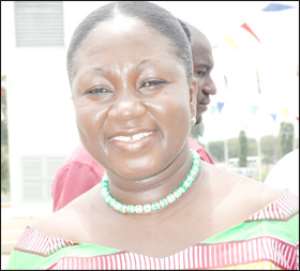 Madam Patricia Appiagyei THE KUMASI Metropolitan Assembly (KMA) yesterday began another decongestion exercise to rid the city of hawkers and unauthorized structures, the Public Relations Officer (PRO) of the Assembly, Mrs. Jemima Nancy Asare disclosed.
According to a statement released on Wednesday and signed for the Metropolitan Chief Executive (MCE), Madam Patricia Appiagyei, the exercise will take place in Adum, the Central Business District (CBD), Roman Hill, Dr Mensah and other congested areas in the metropolis.
The statement disclosed that KMA will deploy metro security guards to the afore-mentioned areas to spearhead the exercise which has previously failed many times in the metropolis.
The metro guards, the statement revealed, have been tasked to clear pavements, triangles and circles of hawkers and unauthorized structures in the aforesaid areas.
Emphasizing that it is unlawful to sell or hawk on pavements and streets especially in the CBD area, the statement advised hawkers to take due notice of the ongoing exercise to avoid being prosecuted.
Furthermore, the statement announced that the Motor Traffic and Transport Unit (MTTU) of the Police Service will similarly begin to arrest and prosecute commercial and other drivers who flout the Assembly's bye-laws with impunity.
Against this background, the statement warned commercial drivers who cause traffic congestion by dropping and picking passengers at unauthorized places to henceforth desist from the practice to avoid arrest and prosecution.
The statement emphasized that the decision to re-visit the decongestion exercise came up after series of meetings with members of the Metro Security Council (METSEC) chaired by Madam Patricia Appiagyei and executives of Transport Unions in Kumasi on February 2, 2009.
Meanwhile, even before the exercise kick-started yesterday, hawkers in the CBD area have given indication of their unwillingness to cooperate with the assembly in the exercise.
Commenting on the exercise on radio programmes last Thursday, the hawkers indicated that until a permanent and conducive place was given to them for their activities, they would continue to hawk on pavements and streets.
Countless attempts by the assembly to decongest the city in previous times fell on the rocks even though several thousands of Ghana Cedis was spent on the project.
It is believed that the New Patriotic Party (NPP) lost significant votes in the Ashanti Region in the last general election because of earlier attempts to decongest the city, a development which adversely affected the business of most hawkers.
From Morgan Owusu, Kumasi