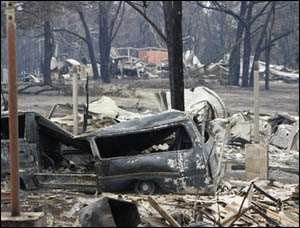 Bush fire destroyes properties in Australia The death toll from bush fires in southern Australia has reached at least 93, the worst in the country's history.
Thousands of firefighters, aided by the army, are battling several major fires, and the number of dead is expected to rise as fires are put out.
Arsonists responsible for lighting the fires could be charged with murder, police have said.
Entire towns in Victoria state were destroyed as fires were fanned by extreme temperatures and wind.
Temperatures are dropping now, but officials fear they will not be able to get the fires under control until there is substantial rain.
"We could still have a lot worse," said Sharon Smee of Victoria's Country Fire Authority. "There's still hot spots out there and there's a lot of people who are really exhausted and tired."
'Absolutely horrific'
Firefighters have been battling against what are described as the worst conditions in Victoria's history.
Witnesses described seeing walls of flames four storeys high, trees exploding and the skies raining ash, as fires tore across 30,000 hectares (115 sq miles) of forests, farmland and towns.
John Coleridge from the Alfred Hospital in Melbourne said most of those rescued from the fires had suffered burns.
"They range from minor, just the soles of their feet running away through embers, to people who've got major, life-threatening burns," he said.
"And unfortunately there are some people who will not survive."
The BBC's Nick Bryant in Sydney said police suspect that in at least one case fires have been restarted by arsonists after being extinguished by firefighters.
New South Wales Premier Nathan Rees said arsonists faced a maximum 25 years' jail.
"We will throw the book at you if you are caught," he was quoted as saying by the AFP news agency.
"Some of these fires have started in localities that could only be by hand, it could not be natural causes," Victoria state Police Deputy Commissioner Kieran Walshe was quoted as saying by AFP.
He said there would be a "full, thorough investigation".