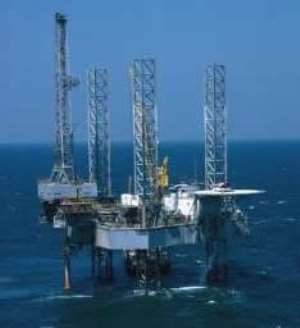 Kosmos Energy LLC is seeking buyers for its stakes in a huge West African oil field, two people familiar with the matter said, in the latest sign that tight credit markets and low oil prices are hurting smaller firms.
The possible divestment - which has attracted the interest of large oil players - also highlights the increasing consolidation in the sector. It could herald the majors' entry into Ghana, a nation set to become an oil producer next year.
Dallas-based, privately held Kosmos has appointed advisers to handle the sale of its stakes in two blocks that span the Jubilee oil field in Ghana, and they could fetch as much as $3 billion, one of the persons said.
Chevron Corp. (CVX), ExxonMobil Corp. (XOM), Italy's Eni SpA (E), India's Oil & Natural Gas Corp. (500312.BY), and Cnooc Ltd. (CEO) have expressed interest in the Ghana assets, the person added.
It comes at a time of tight credit markets which are making it harder for smaller oil producers to cover the cost of bringing new projects online, and prompting some to seek buyers for individual assets or the company as a whole.
Oil prices are down $100 a barrel from their peak in July last year, and aren't forecast to rebound any time soon, potentially forcing operators to delay production if they want to maximize returns.
"Our sense is that Kosmos doesn't really want to sell, but may feel it has no option given where oil prices are right now. It wants to know the valuation that the market is putting on the Jubilee asset," said an official at one of the companies considering a bid.
The Jubilee field is one of West Africa's biggest oil strikes in years, likely containing recoverable reserves of at least 1.2 billion barrels of oil equivalent, with first output scheduled for the second half of 2010.
Kosmos, which is backed by private-equity firms Warburg Pincus and Blackstone Group (BX), operates the West Cape Three Points block with a 30.875% stake and has an 18% stake in the adjacent Deepwater Tano block. The Jubilee field straddles both blocks in the Gulf of Guinea.
The person said partners in the blocks, including Tullow Oil PLC (TQW.DB) and Anadarko Petroleum Corp. (APC), have the right to pre-empt any stake sale agreed by Kosmos.
Anadarko has already flagged its willingness to pre-empt a sale, the person added, although it will likely seek to bring in a new partner to the Jubilee field in exchange for them carrying much of its development costs.
A spokesman for Kosmos didn't return requests for comment.
Spokespeople for Eni, Chevron, ONGC, ExxonMobil and Anadarko declined to comment. A spokesman for Cnooc wasn't aware of any talks.
By David Winning and Benoit Faucon, Dow Jones Newswires