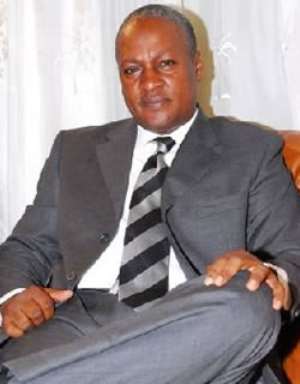 The government yesterday called for clarification from the Italian government about the circumstances that led to the killing of six Ghanaians during a shooting incident in Italy.
Vice-President John Dramani Mahama who made the call at a meeting with the Italian Ambassador to Ghana, Fabrizio De Agostini, at the Castle Osu in Accra, said the government was hoping that the Italian government would state its position on the matter.
He said the matter had been a source of concern for the government, adding that it was important for Italy to provide adequate information on it.
Consequently, the Vice President gave assurance of the government's preparedness to collaborate with Italy to deal with the matter, and possibly issue a joint statement on it.

On September 18, last year, a number of immigrants including six Ghanaians, were shot dead without provocation in the Italian city of Naples. They were Kwadwo Owusu Wiafe, Karim Yakubu, Kwame Antwi, Julius Francis, all of Nkoranza, and Ibrahim Muslim, Justice Sonny Abu and Eric Affum Yeboah all of Kumasi.

The motive of the crime remains unknown but it has been established that the act was carried out by a group with links to the Casalesi clan of the Naples Camora Mafia.
Information from the Italian government on the outcome of investigations into the matter has not been forthcoming.
Touching on relations between the two countries, Vic-President Mahama said the improvement in trade between Ghana and Italy was encouraging.
He mentioned in particular, the support from Italy for the development of the construction sector and small and medium scale enterprises.
He stressed the need for transfer of technology from Italy to promote the agricultural sector, especially in the food processing sector.
For instance, he said Italy which is renowned for growing and processing tomatoes could transfer its technology to revamp Ghana's tomato processing industry to be able to export to other parts Africa.
He observed that one of the leading tomato processing companies in Tema was Italian owned, and gave the assurance that the government would provide the necessary support to such companies to be expanded.
"We are looking for partnerships for investment from countries like Italy to improve the agro-processing sector," he said.
For his part, Mr Agostini, expressed appreciation for the co-operation from Ghana and said the Italian government was desirous of enhancing bilateral relations between the two countries.

He congratulated the Vice President on assumption of office and assured the government of Italy's support.