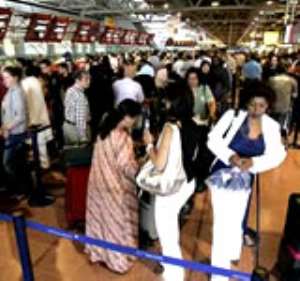 France has been put on storm alert with the three Paris airports closed and ferry services suspended.
Air France said it had cancelled 210 flights, with the Charles de Gaulle, Orly and Bourget airports not due to reopen until 1000 (0900GMT) on Tuesday.
The storm was expected to hit France's Atlantic coast hardest, with winds of up to 100km/h (60mph).
Services between Brittany and nearby islands have been suspended, operators Oceane and Penn Ar Bedd said.
Brittany Ferries also postponed the inaugural sailing on Tuesday of its service from Roscoff to Plymouth, in southern England.
The French navy has put three rescue vessels on stand-by to help any shipping in difficulty. Sand bags have been deployed on sea-fronts exposed to possible flooding.
Scottish freeze
In Paris, travellers were asked not to head to the city's airports, which closed at 2000 (1900GMT).
Flights had been disrupted for two hours before the closures. Charles de Gaulle is one the busiest airports in Europe.
Forecasters predicted however that the storm would not be as bad as the one that lashed France and Spain on 24 January, leaving 11 dead and causing widespread damage.
In England, heavy rain sweeping across the country has left many councils on "full alert" in preparation for floods.
The UK saw the heaviest snowfall for 18 years last week and forecasters warn more snow is on the way over parts of Wales and the Midlands.
Forecasters are also predicting another freezing night in the Scottish Highlands, after temperatures on Sunday night dropped to -18C (-0.4F), which the Met Office said was the lowest temperature since January 2003.