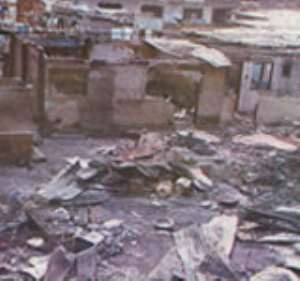 Mr Sakutey Addo, Ho Municipal Fire Officer on Monday blamed many domestic fires on improper and over-aged electrical wirings on buildings.
He held that inappropriate plugging of electrical gadgets into sockets at homes also constituted another problem.
In an interview with the Ghana News Agency (GNA) in Ho, Mr Addo said there was a disturbing trend among property owners to contract unlicensed electrical technicians to wire their buildings.
He said these unqualified technicians were not likely to measure up to the standards set by the Electricity Company of Ghana and therefore could expose homes to fire hazards.
Mr Addo said except for fridges which were designed to be plugged into their sockets for a long time, several people have acquired the habit of keeping their electrical gadgets connected to live sockets for hours even when not in use.
He said it was dangerous to leave radios, televisions and pressing irons connected to live sockets while absent from home.
Mr Addo advised the public to be extra careful in handling electrical gadgets, especially during the rainy season, which comes with storms, necessitating sudden power curtailments and restorations, resulting in surges that could cause fires.
He said indiscriminate bush burning was a huge challenge to the Fire Service. He said only 11 of such fires had been reported this year.
Mr Addo said two deaths were recorded in seven domestic fires this year, mainly from electrical faults and mishaps from the use of gas for cooking.