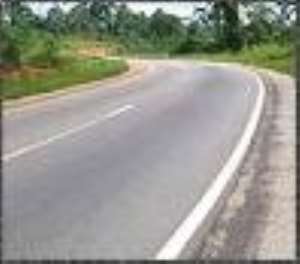 Government on Monday expressed its concern over the high rate of accidents on the country's roads and said it would work aggressively to turn the Accra-Kumasi trunk road into a dual carriage to reduce the carnage.
Vice President John Dramani Mahama, who announced the road improvement scheme in Accra, condemned the indiscipline on the nation's roads and called on motorists and transport operating groups to observe road regulations to save human lives.
The Vice President made the observation at a meeting with a delegation from the Ghana Road Transport Co-ordinating Council at the Castle, Osu in Accra.
The delegation was in the castle to congratulate Mr Mahama on his new role as the Vice President of the nation.
Vice President Mahama said it was very useful to have a Co-ordinating Council for the transports associations.
He impressed on motorists to have periodic eye checks, shun overloading, and to carry the required weight loads to avoid damaging the roads, which adds to the expenditure of maintaining roads.
The Vice President announced that Government would review the mode of collection of road tolls.
He said government would continue collaborating with transport groups and the banks to enable the groups to acquire new vehicles.
Mr Mathew Hayford, Chairman of the Council said road transportation was still the primary mode of transportation in Ghana, carrying about 95 per cent of goods and services.
He expressed his concern about the high operational cost of the vehicles and appealed to Government to help the Council to acquire a Secretariat.
The Vice President assured the council members that their "concerns would be looked into" when parliament approves the new Transport Minister designate.
The Council is made up of representatives from 23 different transport organizations.