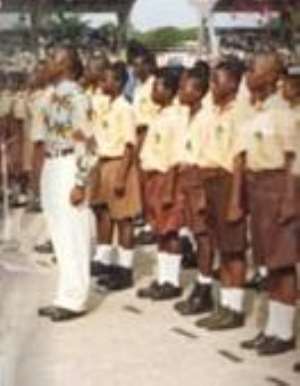 Mrs. Benedicta Naana Biney, Deputy Director-General of Ghana Education Service, has advised teachers to live above reproach as role models to win the respect of the people and honour in society.
They should also work assiduously and be committed to their work to improve the quality of education.
Mrs Biney made the call at a farewell party at Nkoranza organised by teachers of Nkoranza North and South districts in honour of the Mr. Kwabena Agyemang-Badu, the retiring District Director of Education.
The deputy director general stressed the need for every individual worker and people in authority to distinguish themselves in their services in order to leave a legacy worthy of emulation.
The GES in a citation read by Mrs. Biney commended Mr. Agyemang-Badu for his invaluable contributions to the growth and development of education for the past 37 years.
It praised the outgoing District Director for working hard through the ranks to attain his position without blemish.
Mrs. Akua Akubour Debrah, Brong-Ahafo Regional Director of Education, paid special tribute to teachers in the two districts for the cordial working relationship with the out-going director.
She urged them to exhibit "such good behaviour" towards the in-coming director.
The regional director commended the out-going district director for helping to improve the standard of education in the two districts during the six years that he served.
The Reverend Kubi Asuamah Yeboah, assistant district director of education in-charge of finance and administration, commended Mr. Agyemang-Badu for successfully negotiating for the provision of an office accommodation for Nkoranza South district directorate of education.
Mr. Kwame Ampofo-Twumasi, MP for Nkoranza South, urged the out-going director to continue to use his rich experience to help promote education in both districts.
Mr. Agyemang-Badu expressed gratitude to the people in the two districts, teachers, heads of department and the Nkoranza Traditional Council for their "wonderful cordial relationship with him.
Mr. Thomas Adu Appiah, an elder of Sessiman in Nkoranza who presided on behalf of Mr. Nicholas Danso Abeam, President of African Link Network, commended the teachers and people for giving the out-going district director a befitting farewell.
He expressed the hope that they would continue to tap the rich knowledge and experience of Mr. Agyemang Badu towards the promotion of education in the area.