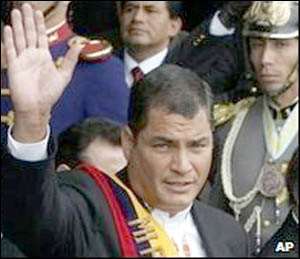 Mr Correa enjoys huge popularity in Ecuador Ecuador's left-wing president has ordered the expulsion of a senior US diplomat, accusing him of suspending aid to Ecuador's anti-drugs programme.
During his weekly TV address, Rafael Correa said US customs attache Armando Astorga was "insolent and foolish" and had treated Ecuador like a colony.
The US embassy denied that Mr Astorga was responsible for any policy change and said he had already left Ecuador.
Analysts say Mr Correa has generally enjoyed decent relations with the US.
But he launched a vitriolic attack during his weekly TV programme, accusing Mr Astorga of trying to make some economic aid conditional on Washington being allowed to choose the head of Ecuador's anti-narcotics police.
"Mr Astorga, keep your dirty money, we don't need it. We have dignity in this country," he said.
Mr Correa then told his foreign minister to "give this gentleman 48 hours to pack up his suitcases and get out of the country".
"We're not going to let anyone treat us as if we were a colony here."
US embassy spokeswoman Marta Youth said Mr Astorga had left Ecuador in early January at the end of his assignment.
A state department spokesman said the US ambassador would hold talks with the Ecuador's foreign minister to "check why this announcement was made".
Mr Correa has clashed with Washington over several issues - most notably refusing to renew the lease on airbases used by US forces to mount anti-narcotics missions.