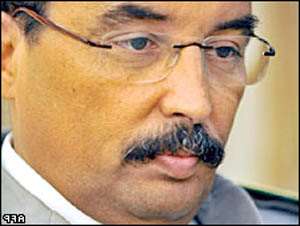 Gen Mohamed Ould Abdelaziz The African Union (AU) has imposed sanctions, including a travel ban and a check on bank accounts, on Mauritania's military junta, it has announced.
The AU says it will urge the United Nations to extend the measures so they are applied by every country.
The move comes amid speculation that General Mohamed Ould Abdelaziz could contest elections, set for 6 June.
He seized power in August 2008 from Mauritania's first democratically elected president.
After the coup, Sidi Mohamed Ould Cheikh Abdallahi was held under house arrest until December 2008.
The African Union's Peace and Security Council Chairman Manuel Domingos Augusto told the AFP news agency that the sanctions included "a travel ban on civilian and military members of the junta, the systematic refusal of visas and checks on their bank accounts".
Spanish news agency Efe quotes sources close to Mauritania's military leader as saying that he told ministers on Thursday that he would contest the June poll.
There has been intense international pressure on the coup leaders to return the country to democracy.
Former colonial power France and the US had cancelled their aid, pending Mr Abdallahi's release.
The AU also suspended the country following the 6 August coup.
Mr Abdallahi became Mauritania's first democratically elected leader in 2007 after a coup two years earlier, partly instigated by Gen Abdelaziz. BBC
On 6 August, Mr Abdallahi, as president, tried to dismiss four senior army officers, including Gen Abdelaziz, the head of the presidential guard, who responded by launching the coup. Mauritania has a long history of coups, with the military involved in nearly every government since its independence from France in 1960.