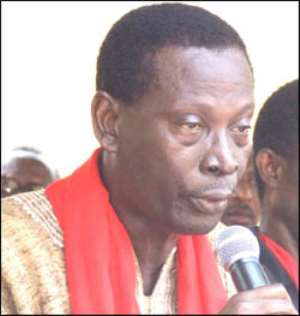 Kwabena Adjei - NDCNational Chairman The Northern Regional Chairman of the ruling National Democratic Congress (NDC), Alhaji Sumani Zakari was at it again last week when he threatened staff of the Tamale Airport with mass transfer after they blocked him from using the VVIP passage at the facility.
The NDC chairman who holds himself as the acting regional minister, allegedly caused a stir at the Tamale airport en route to Accra on the same flight with the Northern Regional Minister-designate, S.S. Nanyina when he was stopped from using the VVIP lounge by the staff of the airport.
When eventually his insistence failed to sway the airport staff, he flared, threatening that he would order a mass transfer of workers at the organisation.
The regional chairman is said to be worming himself into the good books of the minister-designate, though the man is not a candidate he would have preferred for the position.
The chairman was in the news recently when he led a party team to Accra to protest against the possible selection of a one-time Northern Regional Deputy Minister, Nasamu Asabigi as the substantive regional minister.
Even though the man who finally turned out to be the nominee is not his choice, he appears to have decided to make do with the President's decision since any further action might raised an eyebrow.
Noted for his erratic and brusque conduct, Alhaji Sumani Zakari serves as a hub for NDC activities in the Northern Region especially those bordering on the award of contracts.
Soon after the inauguration of Mills' government, he descended on the regional offices of the Ghana Highways and the Department of Feeder Roads demanding that the heads halt the award of contracts.
When asked about the authority which he was wielding, he pointed at his position as the regional chairman of the ruling party, a position which he added bestows on him the power to run the region in the absence of a substantive minister.
The regional managers the above-mentioned departments were said to have told him that they are only answerable to their Directors in Accra and not the regional chairman of a party.
Alhaji Zakari whose residence is now a flurry of activities by NDC contractors who are said to be hungry for contracts complained that for eight years his people have not landed contracts and that this is now their time.
The leadership of the NDC in the region is said to have called on the national executives of the party to call the chairman to order because of what they consider his embarrassing conduct.
A Daily Guide Report